MID-RANGE FLAGSHIP: ONE PLUS 5
The OnePlus 5 is here, bringing a Snapdragon 835 chip, dual camera system, and higher price tag. But is is worth it?
The OnePlus 5 is now available in gold. See the Display and Design section below for the full slate of color options.
The original flagship killer is back with, well, another flagship killer. After weeks of leaks and rumors, OnePlus has released its sixth handset, the OnePlus 5, and it has the major Android players in its sights: the LG G6, Galaxy S8, and HTC U11.
And it looks to be a formidable competitor. Packing the fastest processor around in the Snapdragon 835, up to 8GB of RAM, a 3,300mAh battery, and dual cameras, the OnePlus 5 fills out the spec sheet for less. Here's everything you need to know, including our full review of the OnePlus 5.
OnePlus 5 specs
Display:5-inch 1080p Full HD AMOLED, 401ppi
Dimensions:7 x 74.7 x 7.25 mm
Weight:153g
Color:Midnight black, slate gray
Operating system:OxygenOS based on Android 7.1.1 Nougat
CPU:Qualcomm Snapdragon 835 (octo-core, 10nm, up to 2.45GHz)
GPU:Adreno 540
Rear camera:16MP, f/1.7 + 20MP f/2.6
Front camera:16MP, f/2.0
RAM:6GB/8GB LPDDR4X
Storage:64GB/128GB UFS 2.1 2-LANE
Ports:USB C, dual nano-SIM slot, 3.5mm audio jack
Battery:3,300mAh
OnePlus 5 price and release date
The OnePlus 5 was released in June 27, 2017, and is available for purchase through OnePlus's website.
OnePlus 5 review
The OnePlus 5 is a major improvement over the 3 and 3T, but nearly all of the changes are on the inside. That means you're getting the same display as last year at a higher price. So while it's still a good deal, it's not quite the killer bargain it was last year. There's a lot more to it, so read our review for the full details.
OnePlus 5 display and design
At 7.25mm thick, the OnePlus 5 is the thinnest phone OnePlus has made. It has moved the camera to the upper-left corner like the iPhone rather than keeping it centered, and the antenna lines remain, meaning the back is made of aluminum and not glass.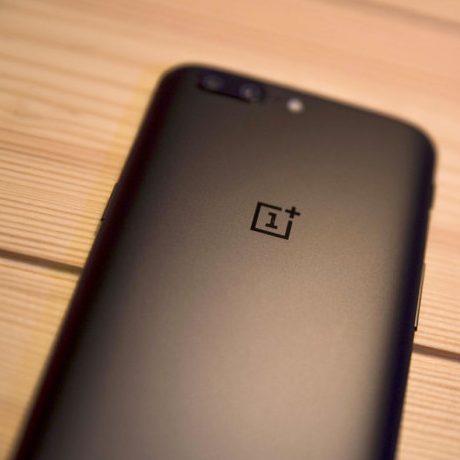 Around the front, OnePlus has resisted the bezel-trimming trend. It looks almost exactly like the 3T, with the same 5.5-inch Full HD 1920×1080 resolution display and pill-shaped home button/fingerprint sensor. Thankfully, it also still has the 3.5mm headphone jack on the bottom edge of the device and an alert slider on the left side. It is available in three color options, depending on options. Both models are available in a slate gray color, but to get it in soft gold you'll need to choose the 64GB model, while the 128GB version is available in an exclusive midnight black color.
OnePlus 5 performance and battery
OnePlus has always packed its flagship handset with the latest silicone, and the Snapdragon 835 inside the OnePlus 5 is a screamer. Elsewhere, the phone brings 6GB or 8GB of RAM, 64GB or 128GB of UFS 2.1 storage, Bluetooth 5, and a 3,300mAh battery.
While the battery is smaller than the one in last year's 3T, it's more than big enough to get through a full day of use. Plus, the 5 uses OnePlus' proprietary Dash Charge system to power up quicker than its competitors. However, since the OnePlus 5 has an aluminum back, it doesn't support wireless charging like the S8 and G6.
OnePlus 5 camera
OnePlus has hyped the heck out of the camera in the OnePlus 5. It ditches the older version's single shooter in favor of a dual-camera system, pairing a custom Sony IMX398 16MP sensor with a large f/1.7 aperture with a 20MP telephoto one. Around the front you get a 16MP lens with f/2.0 aperture.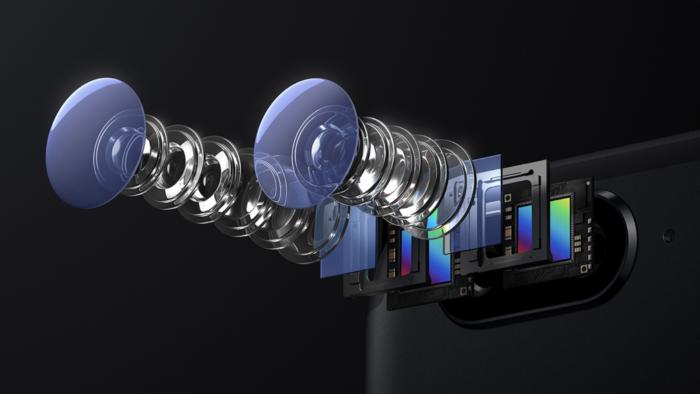 The system brings Fast AF and Smart Capture that will let you take shots instantaneously while filtering out noise and inconsistencies in low-light situations, as well as improved HDR and a portrait mode that simulates a depth of field. It also features 1.6x optical zoom (up to 8x when combined with the digital zoom) and a pro mode that includes a tiny histogram so you can fine-tune the pixels. Notably neither lens features optical image stabilization.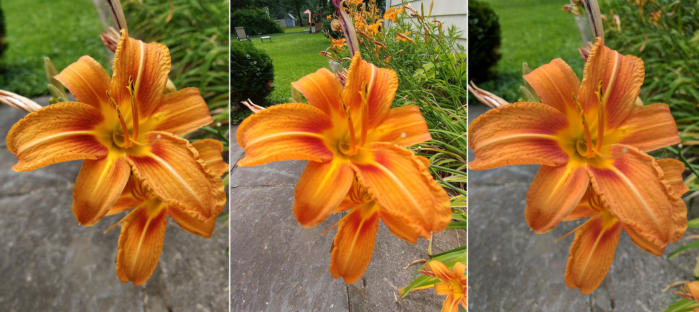 In bright sunlight the OnePlus 5 (left) focused quickly, but the images were a bit too cool. The LG G6 (center) went in the other direction, and the Pixel (right) was spot on.
In our review it didn't stack up against the G6 and the Pixel, but stay tuned for our camera shootout to see if it can unseat our current champion, the LG G6.
OnePlus 5 OS 
The OnePlus 5 runs OxygenOS based on Android 7.1.1 Nougat. Previous iterations haven't strayed too far from stock Android, and the OnePlus 5's version is no different. But there are some new features.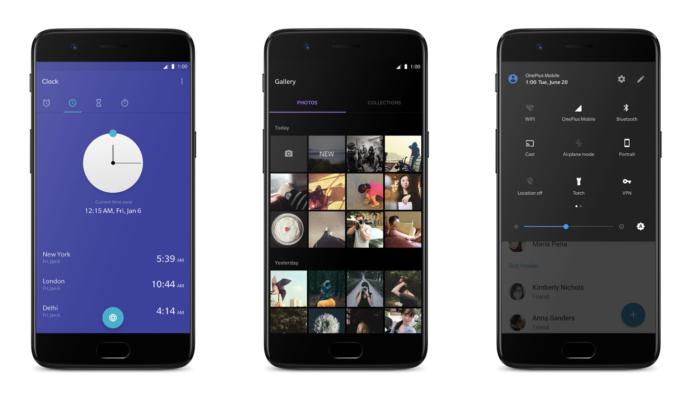 As you use it, it will learn your habits and prioritize your apps accordingly on a new quick-launch area of the Shelf. A Do Not Disturb mode just for gaming will block notifications and disable the soft buttons for an uninterrupted experience. Secure Box lets you lock up documents, photos, and videos behind a fingerprint- or pin-protected folder. And a new Reading Mode will optimize the display in apps like Amazon's Kindle reader to make words easier on your eyes.