Recovering windows 7 settings with System Restore
Introduction
Security and maintenance are important with any computer, and Windows 7 has made a lot of  enhancement  that make it easier than ever to keep your computer in good shape.
In this article, you will come to know that how to use the Action Center, to keep your computer running as smoothly as possible. You will also learn how to recover your system settings with System Restore to fix more serious issues.
What is the Action Center?
The Action Center is a centralized place to view security and maintenance messages, and it also makes it easy to find and fix problems with your computer.
To use the Action Center:
If you have any important messages, the flag icon on the taskbar will display a red "X" symbol.
To open the Action Center, click on the small flag icon on the taskbar.
Review the messages.
Click Open Action Center to acknowledge to messages.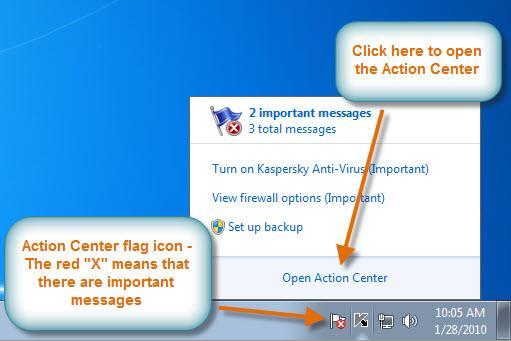 To access the Action Center from the Control Panel:
Click on Start.
Go to the Control Panel.
Click on the Review on Your Computer's Status under System and Security.
Fixing problems using the Action Center:
Your messages are visible in the Action Center pane. Important messages will have a red bar, while less important ones will have a yellow bar. If a security or maintenance issue has a solution, there will be a button on the right side of the message.
Some messages are just notice and do not point out a problem with your computer. These messages will not carry a solution button, but they may still have important clues or guidance.
To fix a problem, click the (solution) button and follow the directions on the screen. When you are done, the message will disappear from the Action Center.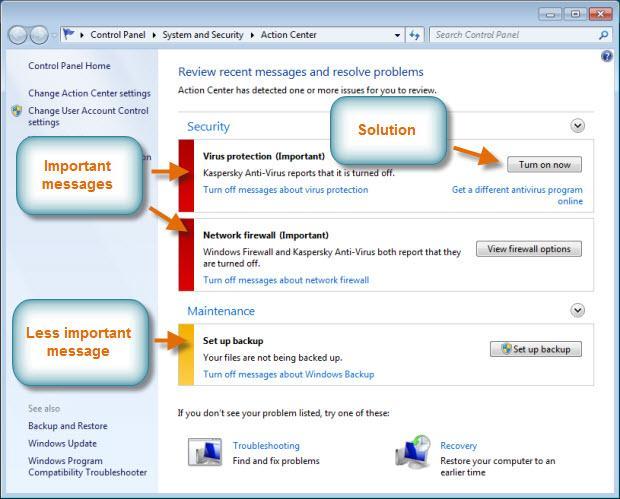 What is System Restore?
Programs you install can make changes to your system settings, and sometimes this can cause problems with your computer. System Restore is often the accessible way to fix these problems. System Restore allows you to "backup" your system settings to an earlier point in time, called a restore point. Keep in mind that this will not delete your recent documents, and it cannot be used to restore lost documents or other files. However, it can uninstall recent programs and drivers.
To run System Restore:
Click on the Recovery button at the bottom of the Action Center.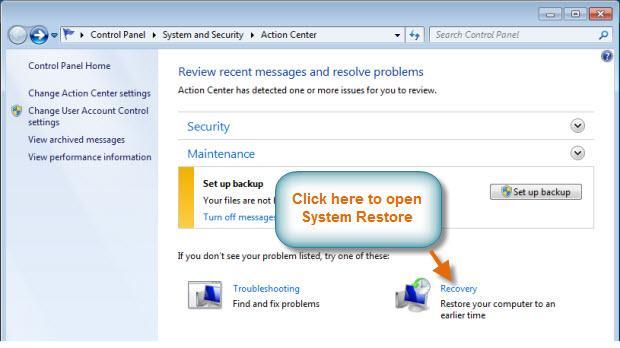 2.Click Open System Restore.
3. Pursue the guidance on the screen.
4. You will be asked to select a restore point. If you've just installed a program that imply to be inducing problems, you will probably want to recover your system to the point just before that program was installed.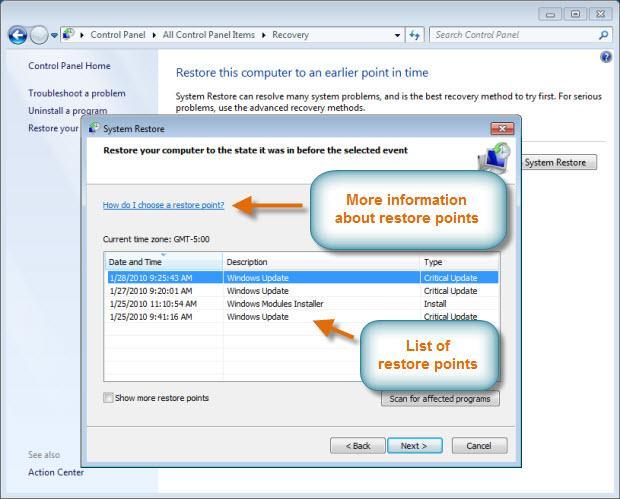 5. Now click on Next to continue working through the steps. When you are finished, Windows will restore your system to the point you have selected.