Introduction of Excel:
Excel sheet is a very important application introduced my Microsoft. It designed for everyday tasks like setting up a budget, keeping records of a list of to-do items.
In this article we are trying to give you brief introduction of Excel with the screenshot .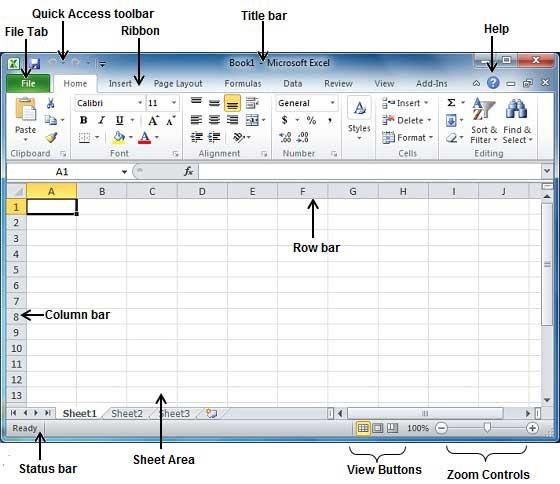 The very first button in "File Tab" , there you will find open or save files, create new sheets, print a sheet, and do other file-related operations.
You will find  "Quick Access Toolbar" just above the File tab and its main purpose is to provide a convenient resting place for the Excel most commonly used commands. You can customize this toolbar based on your comfort.
In "Ribbon" commands organized in three components:

Tabs : They appear across the top of the Ribbon like Home, Insert, Page Layout are example of ribbon tabs.
Groups : They organize related commands; each group name appears below the group on the Ribbon.
Commands : Commands appear within each group as mentioned above.
"Title bar" shows the program and sheet titles.
"Help" icon could be use to get the help related to excel.
"Zoom Control" can be used to see the Excel sheet closely.
"View Button" is located at the right bottom side of the sheet, very near to "Zoom Control".
There will be three buttons :
"Normal Layout view" : This will display page in normal view.
"Page Layout view" :This will displays pages exactly as they will appear when printed.
"Page Break view" : This will shows a preview of where pages will break when it will be printed.
"Sheet Area" is the place where you will have to enter your data.
"Row Bar" are the numbered from 1 to onwards and it will keep increasing as you keep entering data.
"Columns Bar" are numbered from A onwards and keeps on increasing as you keep entering data.
"Status Bar" will displays sheet information as well as the insertion point location. From left to right, this bar will contains the total number of pages and words in the document, language etc.
Under the "File Tab" option you will find following functions: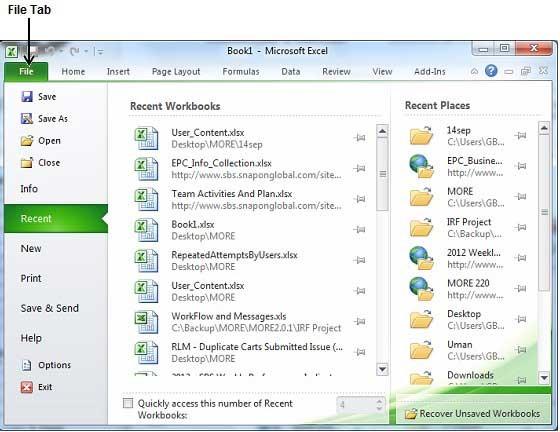 Save               If an existing sheet is opened, it would be saved as is
Save As          A dialogue box will be displayed asking for sheet name and sheet type, by default it will save with extension .xlsx
Open              This option will be used to open an existing excel sheet.
Close              This option will be used to close an opened .
Info                This option will display information about the opened sheet.
Recent           This option will list down all the recently opened sheets
New               This option will be used to open a new sheet.
Print               This option will be used to print an opened sheet.
Save & Send This option will save an opened sheet and will display options to send the sheet using email etc.
Help               You can use this option to get required help about excel 2010.
Options         Use this option to set various option related to excel 2010.
Exit                 Use this option to close the sheet and exit.