"Star" Features on Whatsapps for iOS and Android users
WhatsApp is very famous when it comes to messaging. Users all across the world have been using WhatsApp every now and then. WhatsApp, unlike the conventional messages, lets you send video, audio and pictures. This sets WhatsApp special from other apps.
Till now we are using "Flags" and other signs to marks an important emails.
But now Whatsapps also introduced something same as that kind of signs.
Whatsapps introduced "Star" to call it bookmark messages in chats or from an individual sender in its latest updated version for iOS and Android users.
Here is detail steps How to "Star" WhatsApp Messages on iphone
Step #1. Download the latest version of WhatsApp.

Step #2. Open WhatsApp and tap on the Chat.

Step #3. Now tap on any individual chat or a chat group in which you wish to Star a particular message.

Step #4. Long press the message you wish to Star.

Step #5. You will have a small pop-up bar above that message, tap the Star icon.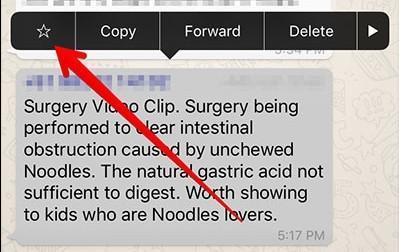 Once you tap the Star icon, that particular message from sender is Starred. To view Starred messages, you will have to tap on the sender name or group name and then tap on "Starred Messages". This will show you all the Starred messages from that appropriate sender.