5 Impressive Coloring apps for Kids
The beautiful relation between colors and children cannot be denied. These colors are reflected on their faces seem very good when they have the opportunity to enjoy firmly.
If you are one of those parents who wish to find something interesting and save for their kids, you are on right place.
In this article you will know about 5 outstanding coloring apps for your kids. your kids can use these apps on Android and iPhone at a same time.
Coloring
The Coloring app features 90 gorgeous-looking highly detailed professional pictures for your kids to add colors in. This simple exercise is a great way to be mindful on a particular task for a few minutes and your kids can have fun using it with you.
This app is for Android and free for use.

Colorfy
Colorfy comes with a selection of florals to color in, and you get to pick your favorite color combinations and painting is done with simple taps and swipes. Keep in mind that the app does offer in-app purchases in the form of a subscription that costs $2.99 weekly, $7.99 monthly and $39.99 annually.
Its available on Android and iPhone at a same time and free for use


ColorDiary
ColorDiary features a varied selection of more than 100 sketches to paint and you can select your preferred color palette, and spend some time winding down completing the task. This is not just an app for kids, adults are allowed and encouraged to participate as an exercise in reflection.
Its also free for use and available for Android and iPhone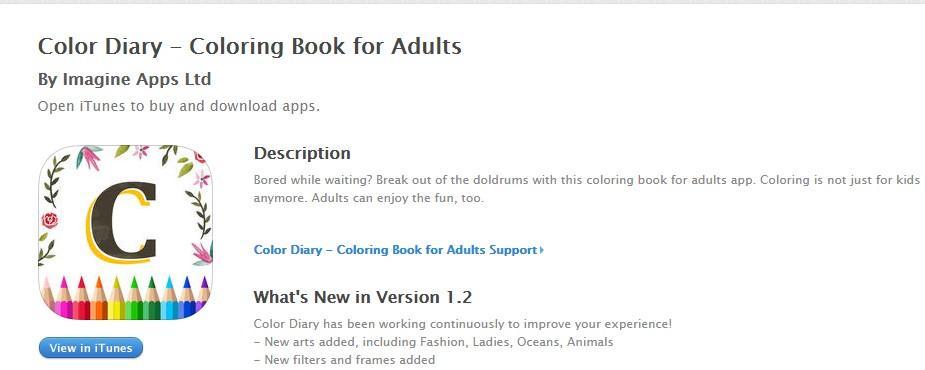 Disney Color and Play
With this color app, you jump right in the world of Disney characters. You can print and color, as well as get to play animated Jungle, word searches, and jigsaw puzzles all inside this application. Additional purchases can unlock Mickey's Living Room from Mickey Mouse Clubhouse, along with a cool music activity; Doc Mc Stuffins and Sofia the First Color and Play Playrooms.
Its also free for use and available for Android and iPhone


Free Coloring Book for Adults
With a selection of beautiful curious patterns to color and with fairly easy to grasp controls, you can get your doze of me-town with a simple coloring book that is fit for adults, as well as kids. Hey, you can also share your creations or set them as a wallpaper.
This is still available only for Android and free for use.