How To Open, Fix, Repair Corrupt Inpage File
Open, Fix, Repair Corrupt Inpage File , Recover Data
This small tutorial will help you to open, fix, repair corrupt Inpage file giving errors and Inpage Crash Problem on opening files, without using any tool. The small neat trick will recover data from corrupt error giving Inpage Files, holding your hard work of weeks and months.
InPage™ Urdu Desktop Publishing System is the industry standard tools for page-making of Newspapers, Magazines & Books in Urdu/Arabic languages. Using the power of Noori Nastaleeq & Noor Character and Faiz Nastaleeq based fonts InPage™ gives you the freedom to design your dreams in almost all Perso-Arabic scripts like Urdu, Arabic, Persian, Sindhi, Kashmiri Pushto & Hazaragi. Running on MS Windows, InPage™ makes publishing not only easy but also enjoyable.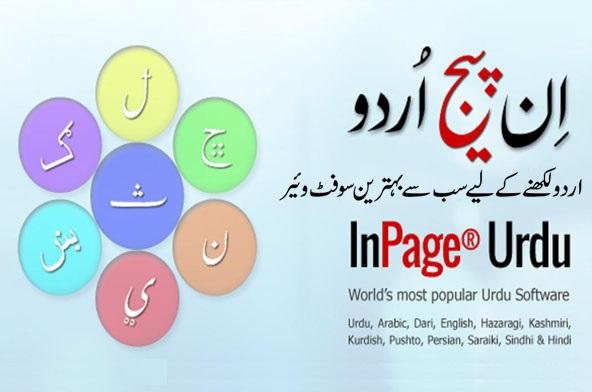 These days almost all Urdu Books Publishing Work, Students Thesis, TV Drama Scripts, Advertisements, and Product Brochures are being designed on Inpage Professional Desktop Publishing System with the help of other Graphic Designing Softwares like Adobe Photoshop and CorelDraw.
Although Inpage Professional is very stable and runs error free even with very large files, but still there are chances of its files going corrupt due to various reasons like Flash Drive Pull Out while file was not completely written, very complex formatting of Text Layout, Windows OS Crash Problem or Power Failure on Desktop PCs.
Once this Inpage file goes corrupt, you lose hard work of hours, days, weeks or even months. Just imagine you have been working for 2 months on a College / University Thesis and in last week just before submission, your file goes corrupt and Inpage crash every time you open this file.
I have recovered my Inpage Data from many files for myself and sometimes for my friends. Most recently it was an episode of a drama script. The most important Inpage Corrupt File data recovery I did was for another friend who lost 5 months' work of English to Urdu Translation Job of a 500 plus pages book.
One more thing I would like to add here is you only get simple text without formatting and may be with some extra special characters here and there. But most definitely, only text is important, character and paragraph formatting can be applied later.
Enough said in the importance of this tutorial and benefits of Inpage Corrupt File Data Recovery. Now I will tell you this ridiculously simple method of retrieving Urdu text from corrupt Inpage Files, without using any tool. All you need is a Plain Text Editor (e.g., Windows Notepad, shipped with every MS Windows OS). This is VERY VERY Important that you use Plain Text Editor, WYSIWYG Word Editors like WordPad or MS Win-Word are not useful. 
A-      Inpage File Data Recovery Using backup files (.B01)
Inpage Software generates a backup file and auto save it after every 5-10 minutes. This file is usually stored in the same directory of your Inpage file with the same name but with extension .B01. If your main Inpage file goes corrupt, you must immediately open this backup file and try to save it as Inpage File. You may lose some data, entered in last 4-9 minutes. If your .B01 backup file is also corrupt, then you can switch to other method, explained in B.
B-      Alternate Simple Neat Trick to Open, Fix, Repair Inpage Files
This trick is very simple but it only recovers non-formatted Inpage Urdu Text. All the Text Styles (Font Faces, Font Sizes, Bold, Italic, Paragraph Settings etc.) will be lost, but you will get what you wanted most i.e., simple plain Urdu Text.
Below image shows what our original file was looking like with Character / Paragraph Styling before going corrupt. Note the areas A & B where arrows are indicating Bold Font, 16 Font Size and Different Urdu Fonts.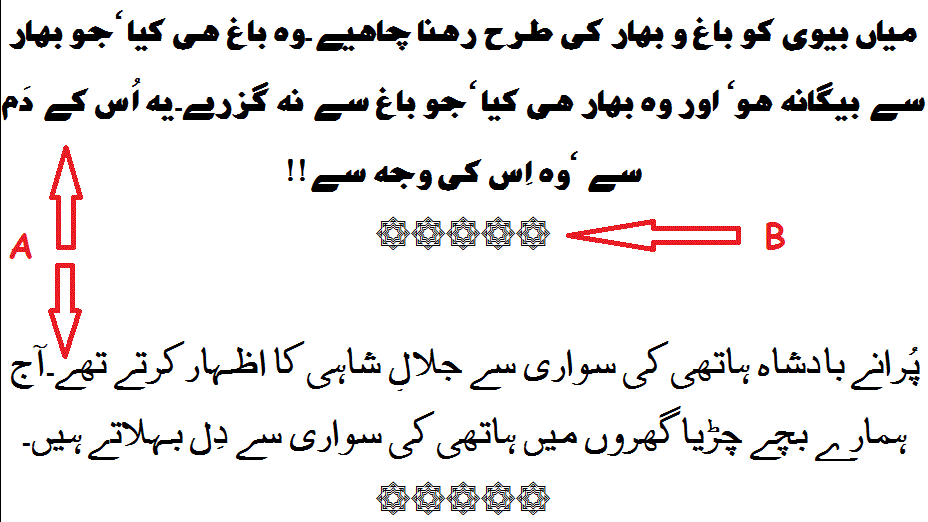 Please follow below given steps to retrieve Text from Corrupt Inpage File:
1-         Click on Start > All Programs > Accessories > Notepad or you may alternatively just type "Notepad" in Windows "Run a Program" Input Box or in windows 7 "Search Program or Files" Input Box.
2-         Click on the corrupt Inpage File you want to recover data and Drag & Drop the file's icon to Notepad window (see image below).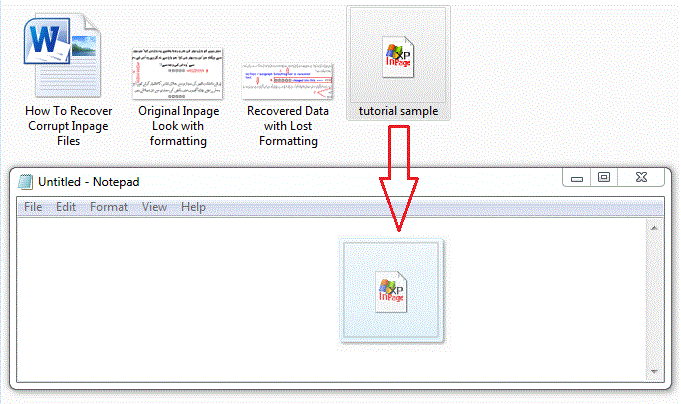 3-         You will see garbage data on screen, don't worry, just click on the Format Menu Above and select "Word Wrap". Now scroll down until you see some English Text which is Inpage Urdu Fonts name like Zohar Sindhi, Asaar etc. (see image below).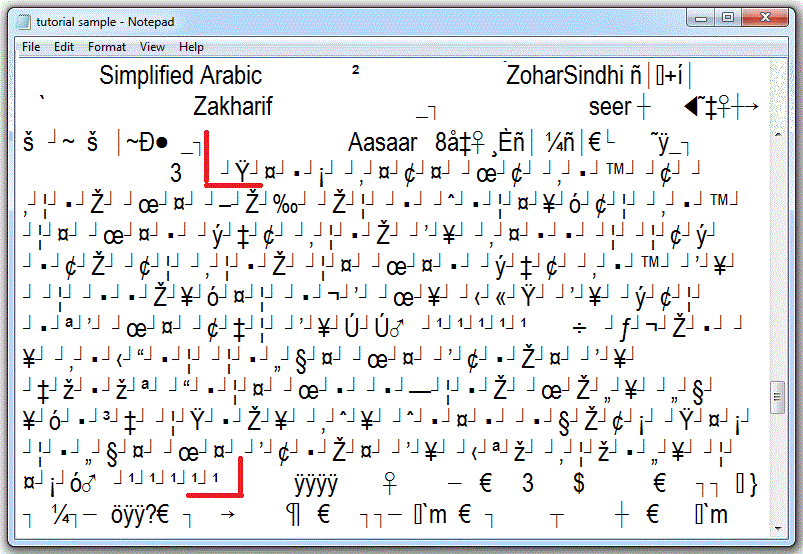 4-         When Fonts Names end you will notice a long string of small boxes (which are marked in above image). This is our required Inpage Text we want to retrieve. If a file is small like I used in my example, these only few lines. If you have a large / big file to retrieve, select all lines of these similar boxes and scroll down till you reach end of this string.
5-         Once you reach at end of this string (not end of the file), copy the text either by combination of Ctrl + C or by using Right Mouse Click and Choosing Copy in available options.
6-         Now Run Inpage and open a new file from File Menu > New. In New File, Click Edit Menu above and select paste OR right click in Text Area and Choose Paste from available options.
7-         Congratulations… you have retrieved your lost data. 100% text but no formatting (point A & B), some extra characters (point C) (see image below). You may find and replace these extra characters and give proper formatting to the required text like headings etc.

8-         The Inpage File I used in this tutorial is also available for download for your practice of data recovery. Please note that this file is not corrupt but when you open this file in Inpage and Copy paste data retrieved though Notepad, you will better understand what was lost and what we got back.