While many parents work extra hard to raise their children without the assistance of electronic devices, the busiest parents will be unable to hide their own fascination with digital handhelds from their interested kin. As any experienced parent knows, most children ages 3-10 will want a turn with the shiny touch screen toy that you use to play games and watch videos.
This is why many decide to opt for having a tablet just for the kids. To some the concept may seem outright thoughtless, but rest settled, most tablets made specially for kids grant the parent ever-important control over their time spent using it as well as what they use it for.
Many come with pre-loaded educational content, and considering that tablet OSes are being taught as early as grade school, just giving a child a chance to explore a digital interface can put them ahead. Parental controls make it easy to balance work with play, as well as keep kids away from websites and settings screens that can lead to trouble.
If your child is craving for her chance to dive into self-directed electronic entertainment, consider one of the tablets below.
Fire HD Kids Edition Tablet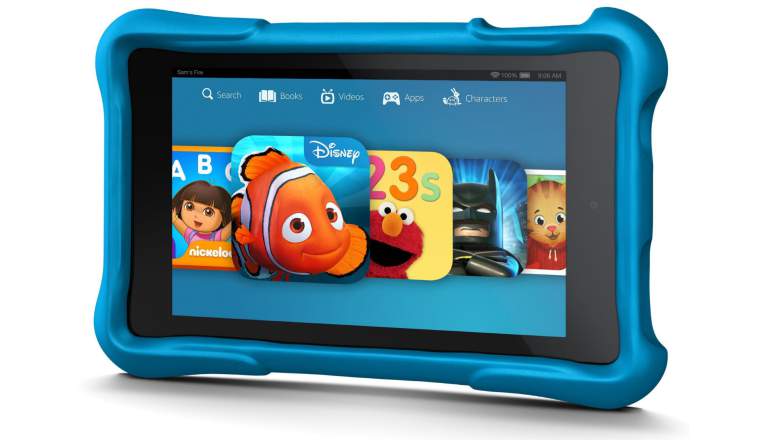 As of right now, Amazon's Kindle Fire HD is the prevailing champion for kids tablets. The reason for this is that the Fire HD Kids Edition is practically the same as a regular Fire HD except it comes bundled with a protective bumper case in one of three colors.
This means that instead of scrimp on the hardware, the Fire HD comes loaded with a powerful quad-core processor, an HD 1024×600 display, front/rear facing cameras, and Amazon's speedy Fire OS 4.0.
The addition of an Amazon FreeTime membership is probably the nicest feature you get. FreeTime Unlimited is a hand-curated subscription of over 5,000 kid-friendly books, movies, TV shows, educational apps, and games.
This is a simple process, as Fire OS 4.0 includes the ability to create unique profiles for different users. Cooler yet, when you switch to a password-protected parental profile, you have access to the full features of the Kindle HD, making it a tablet that can still be easily shared.
The included bumper case is further complemented by a 2 Year Limited Warranty, which gives added peace of mind. It can last quite a while as well, with a decent battery life of about 8 hours.
The Kindle HD comes standard with a 6 inch screen and 8 GB of memory.
2. Nabi DreamTab HD8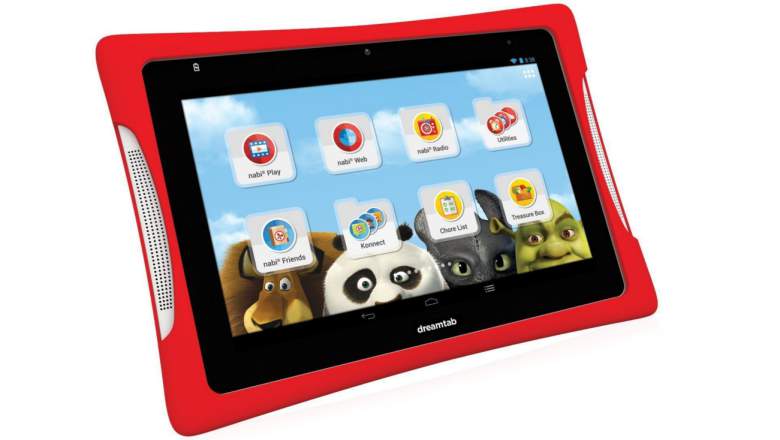 The Nabi DreamTab HD8 is Nabi's top of the line kids tablet, and one that is made in special partnership with Dream works Studios. The beautiful packaging seen in the above video unfolds as a popout of Dreamworks character like Shrek and Po of Kung Fu Panda, sure to excite users age 3-9.
As it is one of the most expensive tablets, expect the DreamTab to provide a lot of extra power that others cannot. In terms of specs, you have an 8 inch HD screen (1920×1200), an ample 16 GB of storage space expandable by a MicroSD slot, and a higher megapixel front/rear facing camera than the Fire HD.
The only thing slow about this tablet's processor is how it handles over-the-air updates, of which there are currently a few you receive out of the box. They take longer than expected to complete, which can be a dissatisfaction if this is given as a gift to be enjoyed right away.
Externally, the tablet comes with a protective red silicone sleeve.
There is much to do in the child-friendly Nabi Mode, and Dreamworks-based content pre-installed can keep a child busy for hours. The tablet's stylus pen enables creative drawing in DreamPro Studio and allows your child to practice handwriting.
One of the coolest features is the Maxthon Kid-Safe Browser, which is basically a limited web browser that allows parents to use a special password to approve access to specific kid-friendly sites on the tablet.
Equally impressive is the Nabi Coin system, which rewards the user for playing educational games with virtual currency that allows them to acquire new, more entertainment-based apps and content. It can also sync up with a customizable chore list, allowing you to decide how your kid earns his/her rewards.
Parent Mode is another excellent feature, as it enables a full Android tablet, meaning you can share this tablet with ease. Time controls are powerful, allowing you to limit the time spent on a specific app, and to review the amount of time your child spends on specific tasks. You can also set a daily time limit beyond which the tablet cannot be used.
While the maximum battery life is supposedly 8 hours, user reports estimate that it is more like 4-5 hours with regular use. This is a little shorter than one would hope, but the tablet's great reward system and fun educational games can keep a young one entertained and productive down to 0% battery, while still giving you plenty of control over the experience.
3.Kurio Xtreme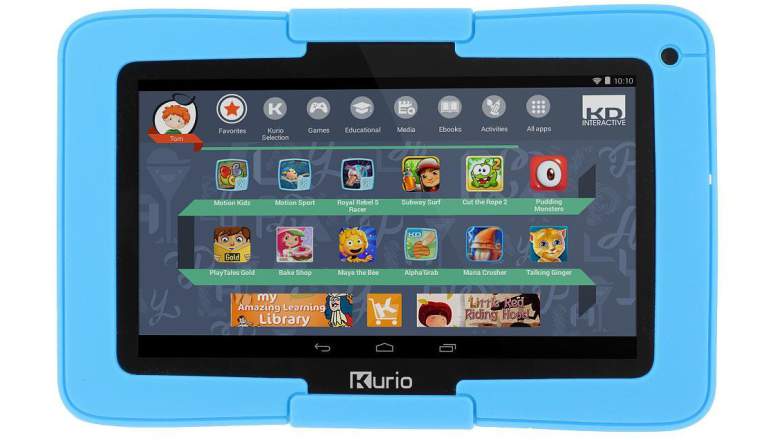 The Kurio Xtreme is another speedy Android tablet that can bridge the gap for kids just old enough to have outgrown the educational content of the DreamTab or Amazon's FreeTime Unlimited. Yes, it's still got a rubber bumper case, but this 7 inch (1024×600) tablet also packs some features that will be valuable into a user's early teens.
Internally, the tablet packs a decent Atom processor, and a nice 16 GB of memory with a MicroSD expansion option. This battery, similar to the Nabi DreamTab, is rated for 8 hours of usage but can vary greatly depending on what's running.
The Kurio Xtreme comes preloaded with over 90 apps, many of which are arguably adapted towards older users. While it is still kid-friendly content, you won't find common Android games like Angry Birds Space, Fruit Ninja, and Subway Surfers on other kids tablets.
One awesome addition Kurio made that others did not is motion control games, which use the built-in camera and an included tablet stand to provide games that get kids off the couch and moving. The review video below demonstrates this in action, but note that it does require the stand or someone to hold the tablet for full functionality.
4. LeapFrog LeapPad Ultra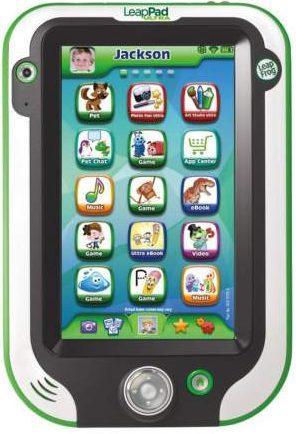 LeapFrog has been making interactive kids toys for many years, and with their newest LeapPad model, they are now bringing their game-based learning into the 21st century. With a 7 inch screen (1024×600), a touch stylus, and a front/rear facing camera for fun photo and video editing, this electronic entertainment system is closer to a full-on tablet than young children's toys have ever been.
This tablet is best for younger kids in the age range of 4-9 years, and their previous model, the LeapPad3, is even easier for a younger audience to use. Users of any age will benefit from the kid-tough casing, although the tablet is somewhat bulky, making it a little too heavy for much younger users and a little too childish for older users.
LeapPad's Learning Suite includes some great pre-loaded digital learning content, but the selection is certainly not unlimited. It comes with 11 apps: Photo Fun Ultra, Art Studio Ultra, Pet Pad Party, Utility Suite, Pet Chat and more.
One the coolest ones is LeapSearch Zui, a kid-friendly web browser that provides multimedia content that has been pre-screened by parents and caregivers. Parents can further modify what content is available by blocking specific sites or adding additional ones to the browser's approved list.
While this is plenty of pre-loaded content for some kids, those who get bored of their toys quickly will eventually want to explore additional game cartridges or digital downloads, of which there is a staggering amount.
This much extra content could be a pitfall if it's for more finicky users, but others may enjoy the benefit of simply being able to buy or download a new game to keep their kid happy rather than having to shell out for an all-new device.
Extensive parental controls and the fact this is strictly a kids' tablet means that content will always be age-appropriate and carefully chosen. The LeapPad Ultra comes with some computer software that adds extra functionality as well, allowing parents to monitor and limit what type of content is most used by their children. You can also set and track education goals.
The one downside of this tablet is that its 800MHz processor handles internal functions rather sluggishly, especially the web browser. The 8 GB of memory is adequate though, as its less graphically-intensive games take up minimal space, and can always be bought as individual cartridges.
5. Vtech Innotab Max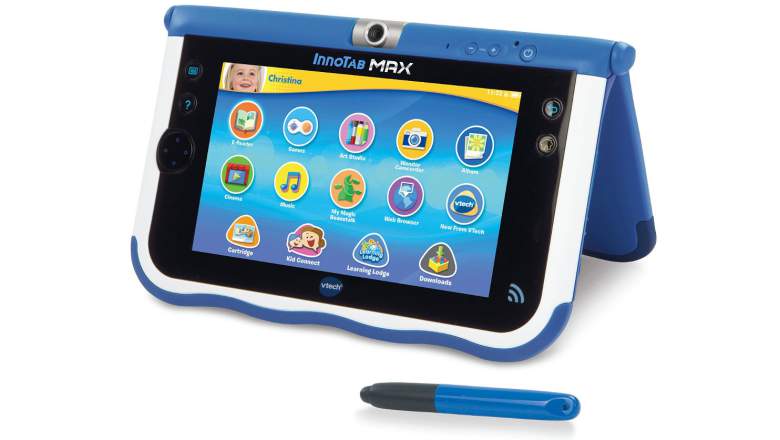 The Vtech Innotab Max, as its bulky shape and simple menus might suggest, is an alternative option to the LeapPad Ultra, which likewise has a younger target audience than other tablets on this list. The Innotab Max is intended for ages 3-8, though one could see interest waning at age 6 or 7.
Kids in this age group will appreciate the bright 7 inch (1024×600) display and the flip stand that doubles as a protective cover with a handle. The Innotab Max also has a 180° Rotating Camera for front or rear use.
You get 15 onboard apps (plus more when you register online), including Wonder Cam Max, Movie Maker and my Magic Beanstalk. Among others is a kid-friendly web browser, time controls, and VTech Kid Connect, which your kid can use to communicate with any parent-approved device that has the Kid Connect app installed. Many apps have educational content, and more apps can be added via cartridges or Vtech's Learning Lodge store.
Performance is a little sluggish, and although the tablet includes a stylus to help develop writing skills, the screen is often easier to use with a finger. It has 8 GB of memory, and features a MicroSD slot which allows you to expand by up to 32 GB. You also get an HDMI out port for displaying video content on a larger screen.