Apple unveiled its new iOS 10 the next-generation operating system for the iPhone, iPad, and iPod touch.
Its features included a redesigned Lock screen with 3D-touch enabled notifications that offer up more information, a more easily accessible camera, and a new widgets screen that houses widgets formerly located in the Today section of the Notification Center. There's a redesigned Control Center, also with support for 3D Touch, and a new Raise to Wake feature wakes up the screen without bypassing notifications.
Messages has been overhauled with new features like background animations, bubble effects, rich links, and Digital Touch, the sketching feature first introduced on the Apple Watch, allowing users to create drawings and annotate photos and videos. Handwritten notes, hidden "invisible ink" messages, quick "Tapback" replies, and bigger emoji are new in Messages, and there's even a predictive emoji feature that suggests words that can be replaced with emoji.
Messages has its own Messages App Store, so developers can create apps that can be used in iMessages. Apps add almost unlimited capabilities to Messages, from sending stickers and GIFs to making payments to making collaborative dinner orders.
A dedicated "Home" app is available for Home Kit devices, and it's now possible to delete almost all pre-installed apps that are unneeded. Photos features impressive facial and object recognition capabilities, which power a new Memories feature for rediscovering forgotten moments.
Both Maps and Apple Music have been redesigned with cleaner interfaces that are simpler to use, with Maps gaining proactive suggestions and integrated third-party apps and Apple Music gaining better content discovery and a new focus on lyrics. Apple News has also been overhauled with subscriptions, breaking news notifications, and better organization.
Apple's QuickType keyboard is smarter in iOS 10 with contextual predictions, and Apple Pay is available on the web. Game Center has been largely eliminated, and many other apps, like Notes, Clock, and Phone have been updated with new features.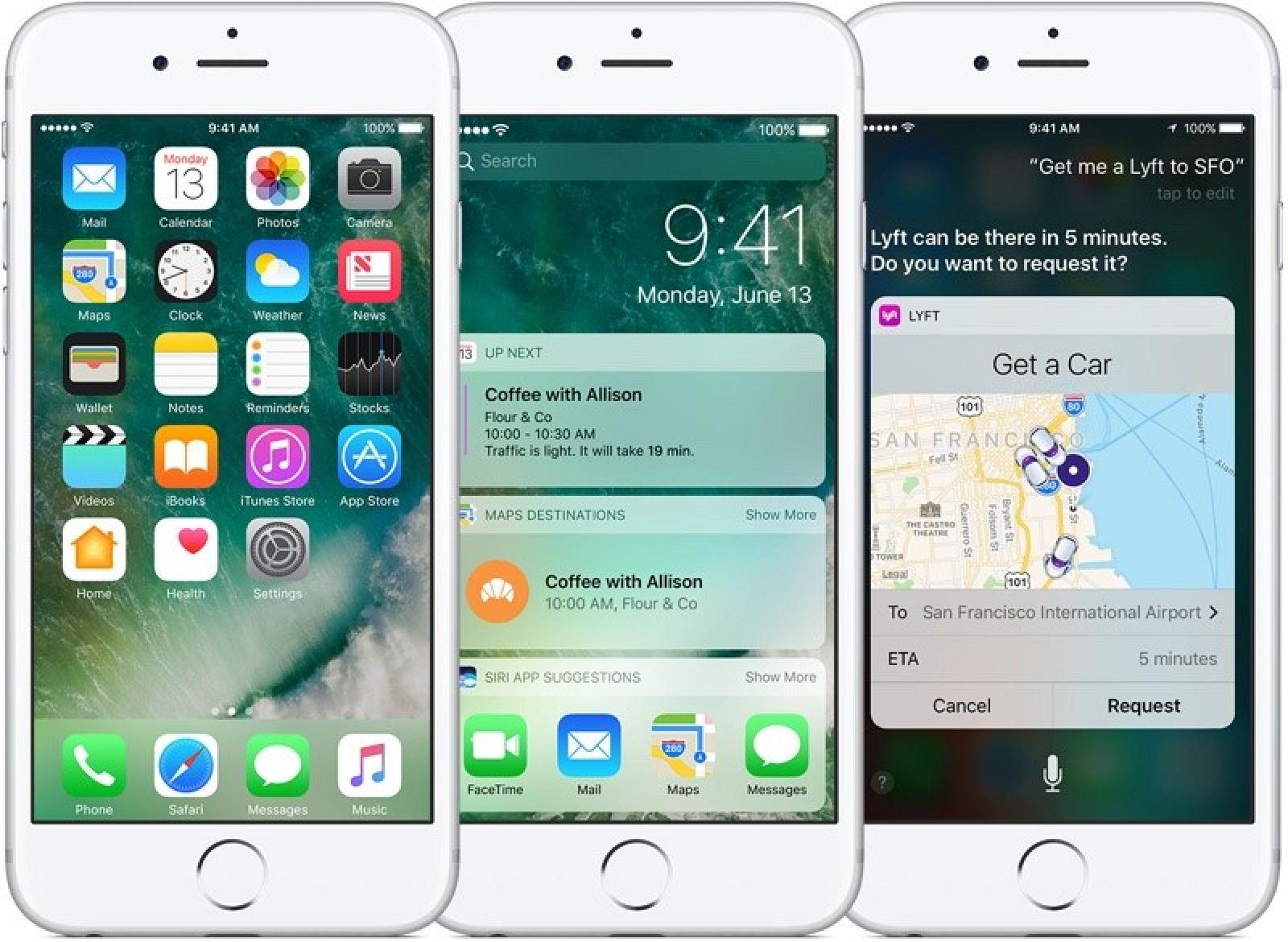 Lock Screen Overhaul
The Lock screen experience is all new in iOS 10, with a new Widgets side panel, a redesigned Control Center, revamped notifications, and the removal of the iconic "Slide to Unlock" feature. The Lock screen also has a bright, crisp new look, as incoming notifications no longer dim the wallpaper.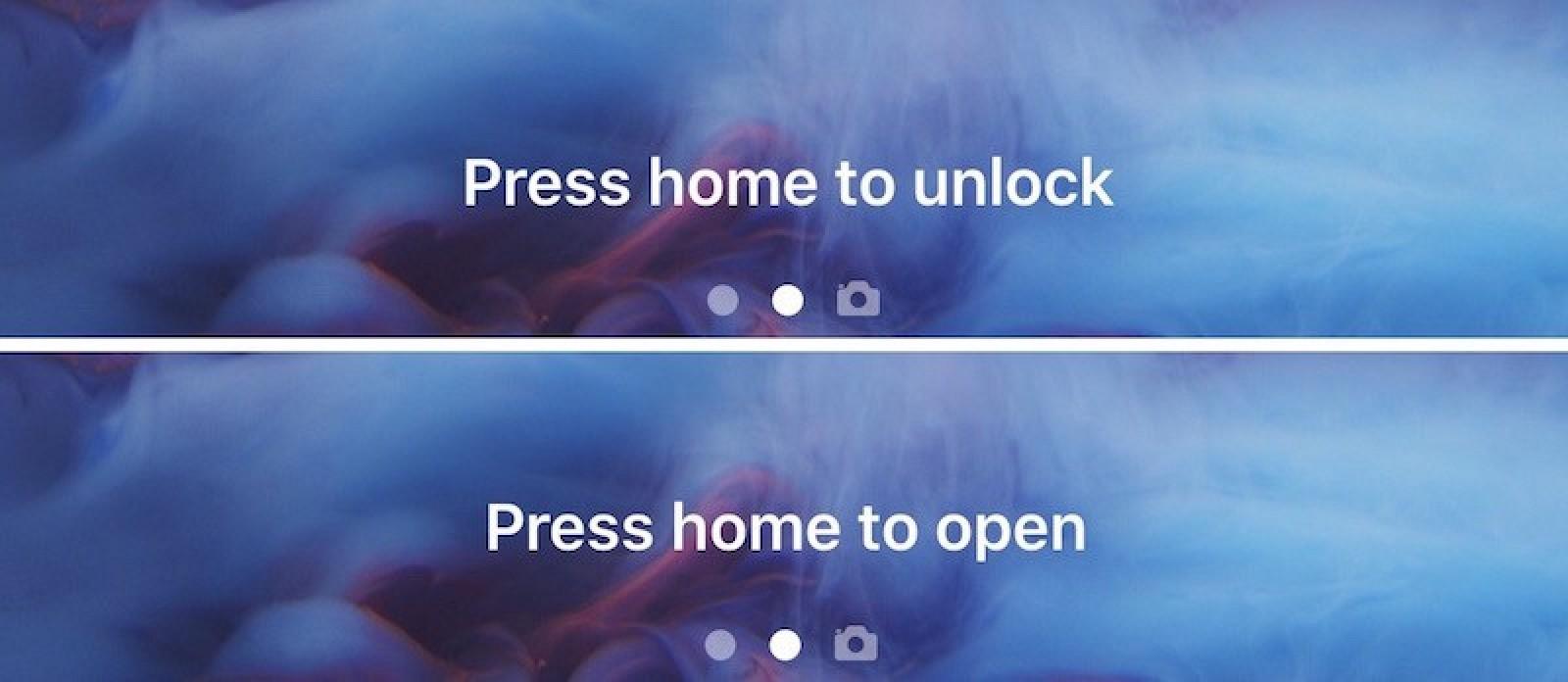 The Widgets panel displays all of the widgets that were previously available in the Today section of the Notification Center. iOS 10 brings a few new built-in widgets, including Mail, Maps (Destination, Nearby, and Transit), favorite contacts, Music, Notes, and Photos (Memories).
Widgets are not available in the Notification Center when on the Home screen, but when in an app and accessing the Notification Center, widgets continue to be available through a right swipe on the screen.
Swiping to the left on the Lock screen now brings up the camera, making it easier to quickly take a photo.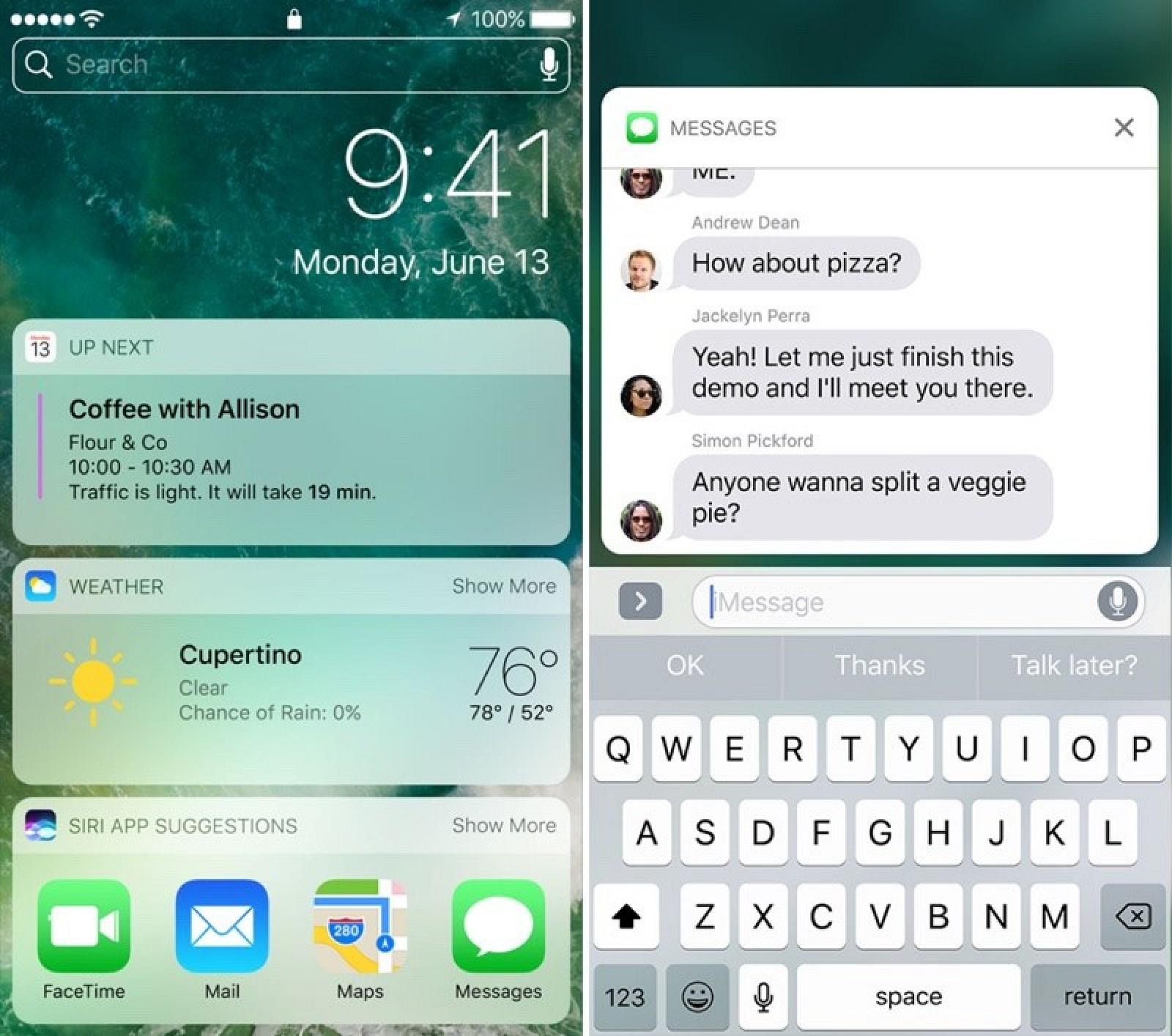 Notifications can also be delivered based on push, calendar time, or location, and custom layouts and looks with rich media are available.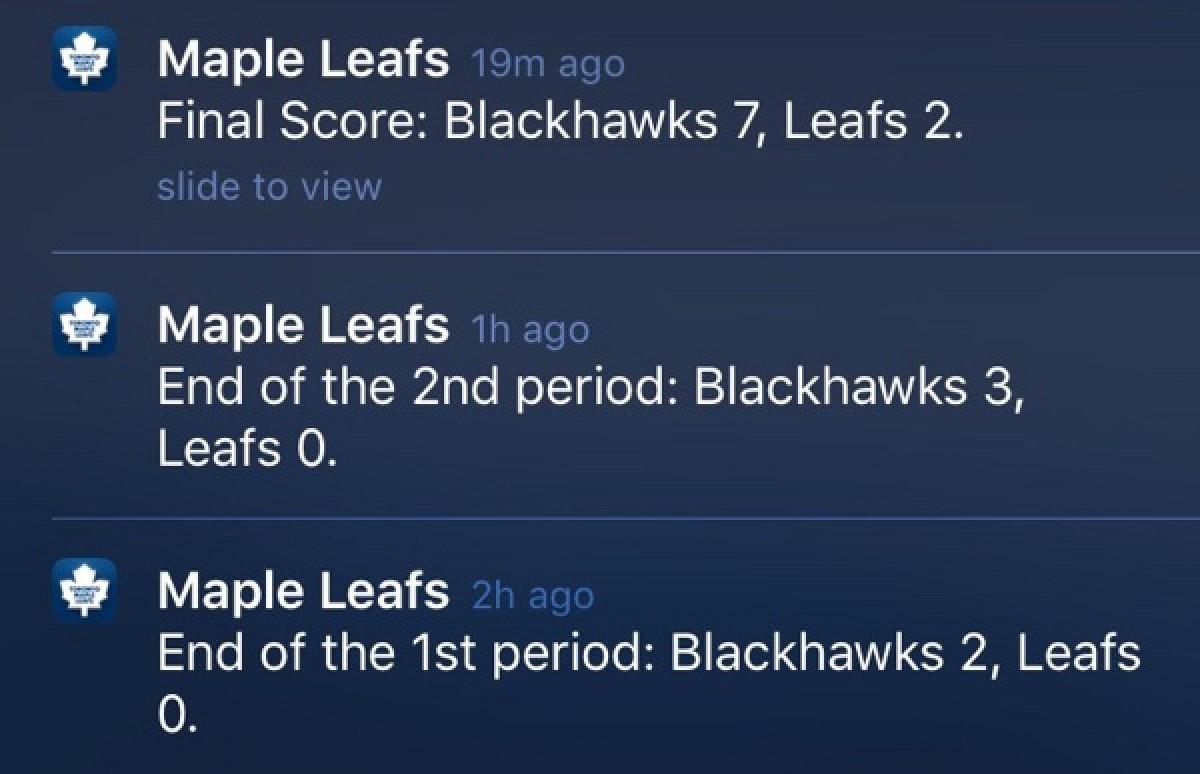 SIRI SDK
Apple introduced a SiriKit SDK in iOS 10, which allows Siri to be integrated into third-party apps for the first time. With third-party app support, Siri is able to do more than ever before. Commands like "Get me an Uber to SFO" or "Send John $20 with Square Cash" or "Call mom with Skype" are all available. Siri's new functionality has been described as "long over-due" and a feature that makes the personal assistant much more useful in everyday life.
Siri integration is available for six different kinds of functions: ride booking, messaging, photo search, payments, VoIP calling, and workouts. That means Siri can book rides, send messages, search photo apps for specific images or videos, make and request payments, place calls in apps like Skype, and initiate workouts. In CarPlay, there's a specific function for accessing climate controls and adjusting radio settings.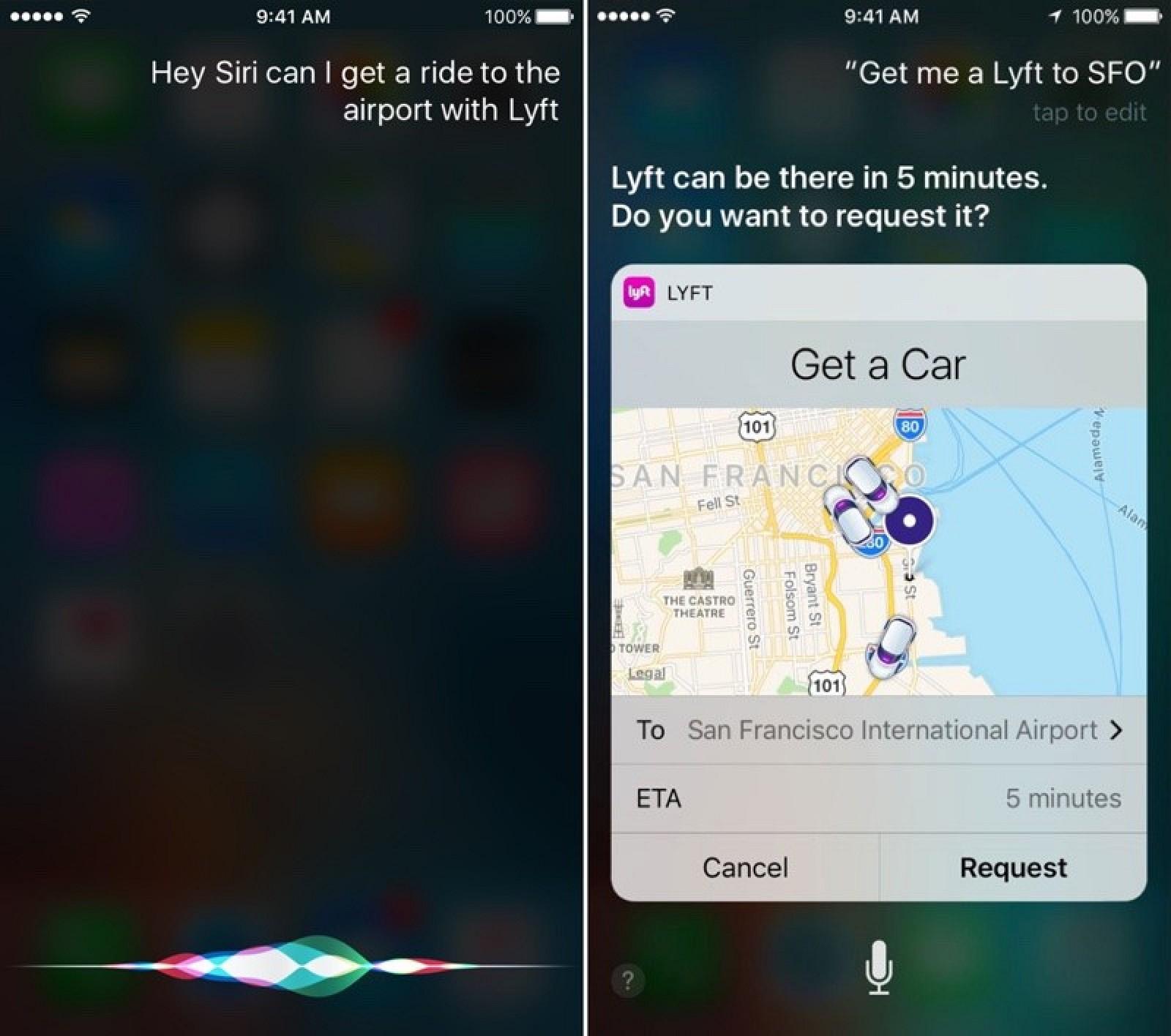 Deleting Stock Apps
People have long wanted a way to delete the apps that come pre-installed on iOS devices to get rid of icons for apps that aren't in use, and in iOS 10, that's finally possible.
Many built-in iOS apps in iOS 10 have been moved to the iOS App Store as standalone downloads, allowing them to be deleted and re-downloaded at will.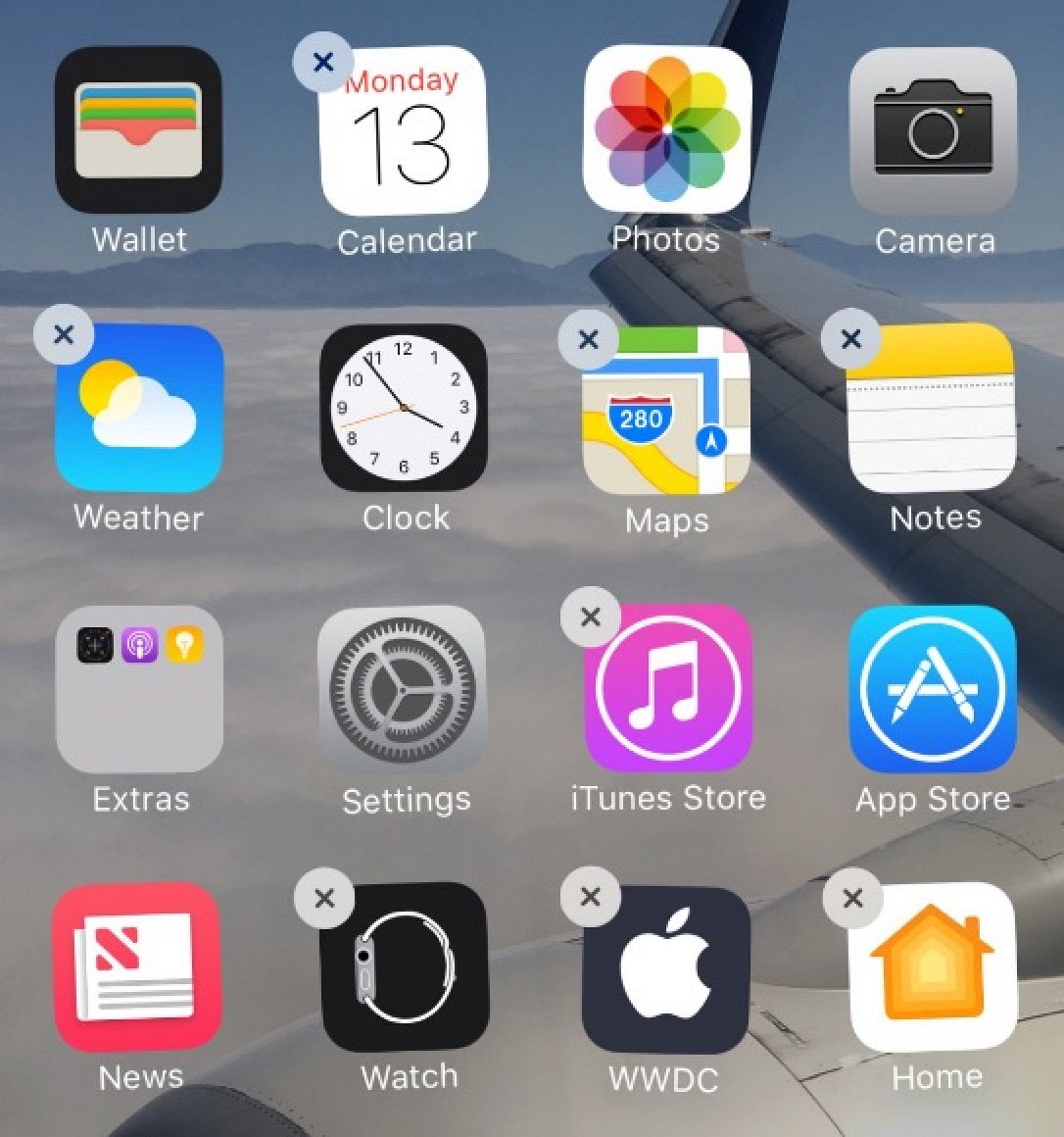 The following built-in apps can be removed on iPhone, iPad, and iPod touch devices in iOS 10:
Calendar
iCloud Drive
iTunes Store
Mail
Maps
Music
News
Notes
Podcasts
Reminders
Stocks
Tips
Videos
Voice Memos
Watch app
Weather
Compass
Contacts
FaceTime
Find My Friends
Home
iBooks
Messages
Because Messages is the most used app on the iPhone, Apple has given it a lot of attention in iOS 10, introducing new features to make iMessages more personal, emotive, and fun.
iMessages can be sent with an animated background, like balloons, confetti, and fireworks, or they can be emphasized with a "Bubble Effect," designed to slightly tweak the animation of a received message to convey emotions like "loud" and "gentle." There's also an "Invisible Ink" Bubble Effect for a surprise-like impact, with text that remains hidden until a finger is swiped across it, and you can add quick "Tapback" replies to messages in the form of a heart, a thumbs up, and more by double tapping on a chat bubble.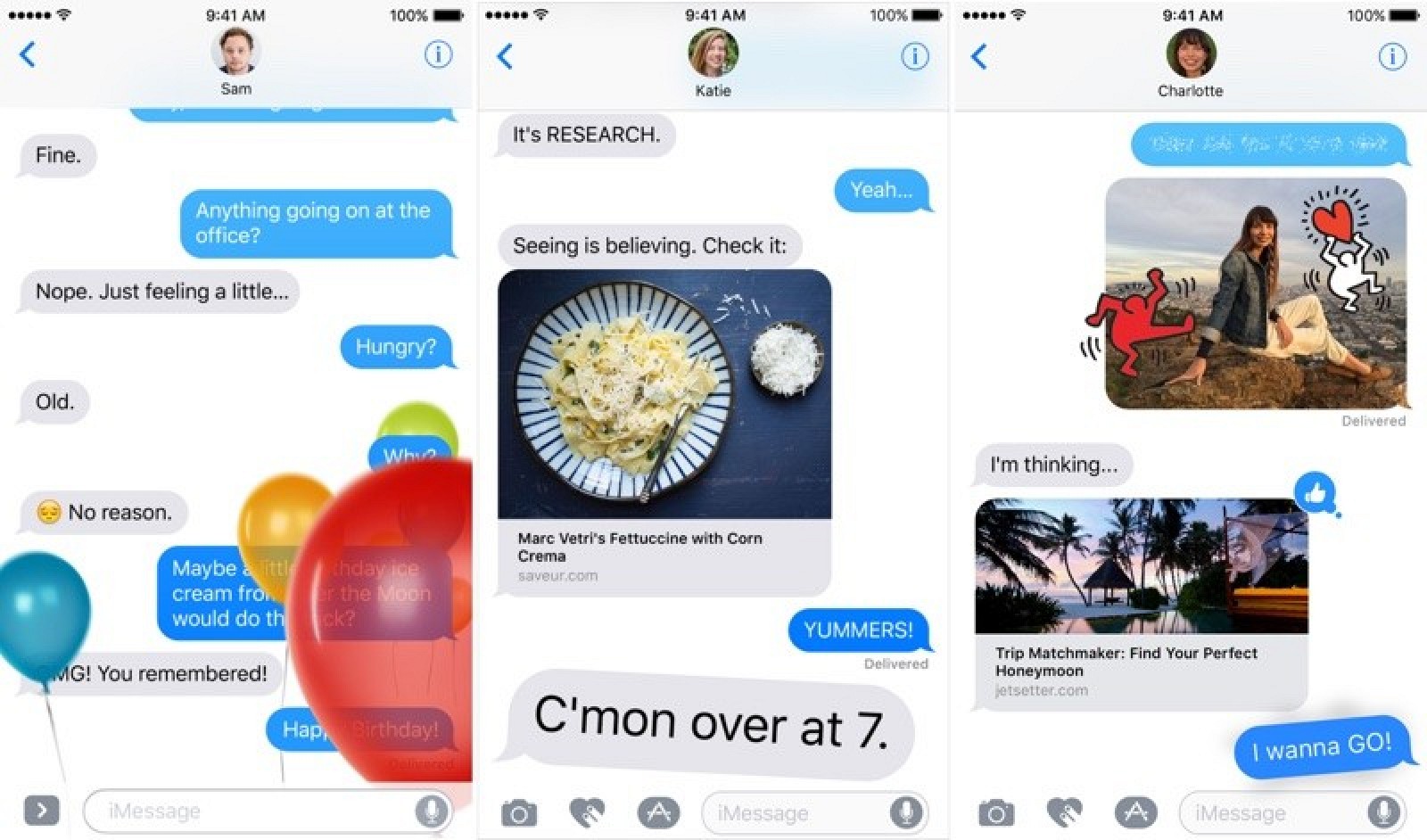 Digital Touch, the sketching feature first introduced in the Apple Watch, is now available in Messages. With Digital Touch, you can send drawings, heartbeats, and taps to friends, and on iOS devices, Digital Touch can incorporate photos and videos that you can draw on. Digital Touch messages play out as they were drawn when sent to a friend.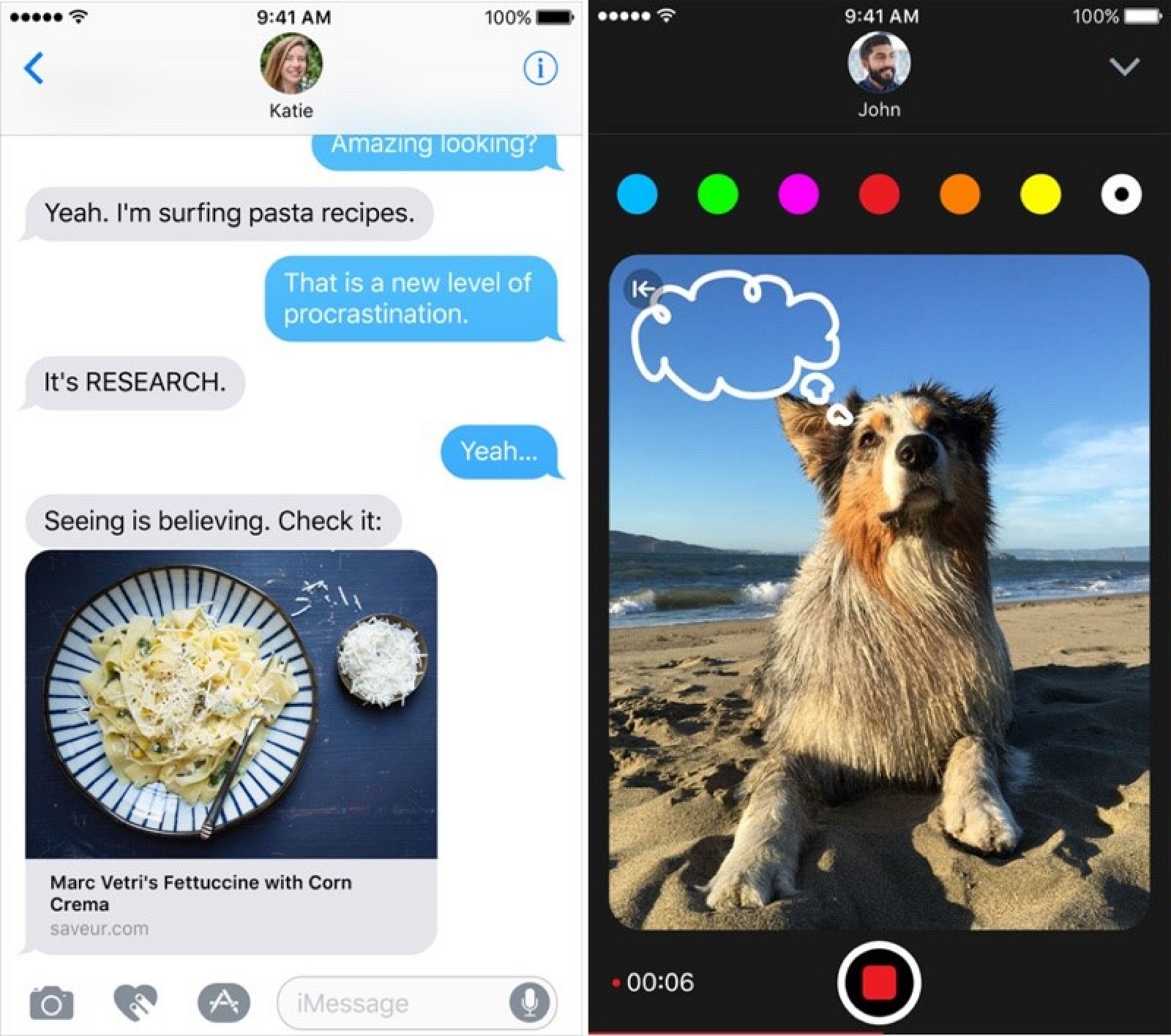 Messages has a built-in handwriting feature for sending handwritten messages to friends. Tapping the new pen button at the bottom right of the keyboard brings up a touch pad where words can be written with a finger.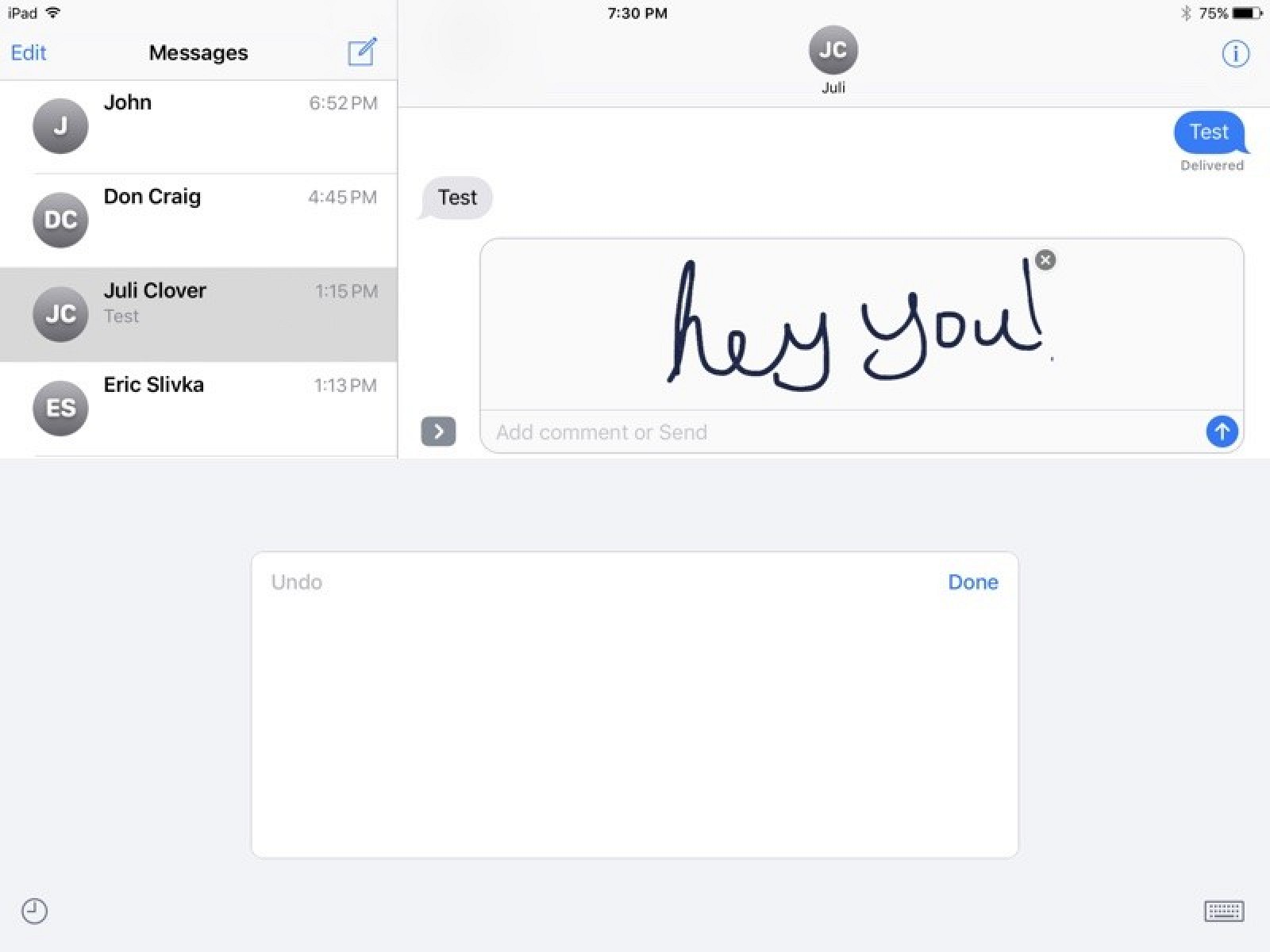 Stickers, which are available from the Messages App Store, have special properties. They can be resized, put on top of chat bubbles or other stickers, and be added to photos. Apple makes it easy to create stickers by dragging images into a designated folder in Xcode with no need to write code.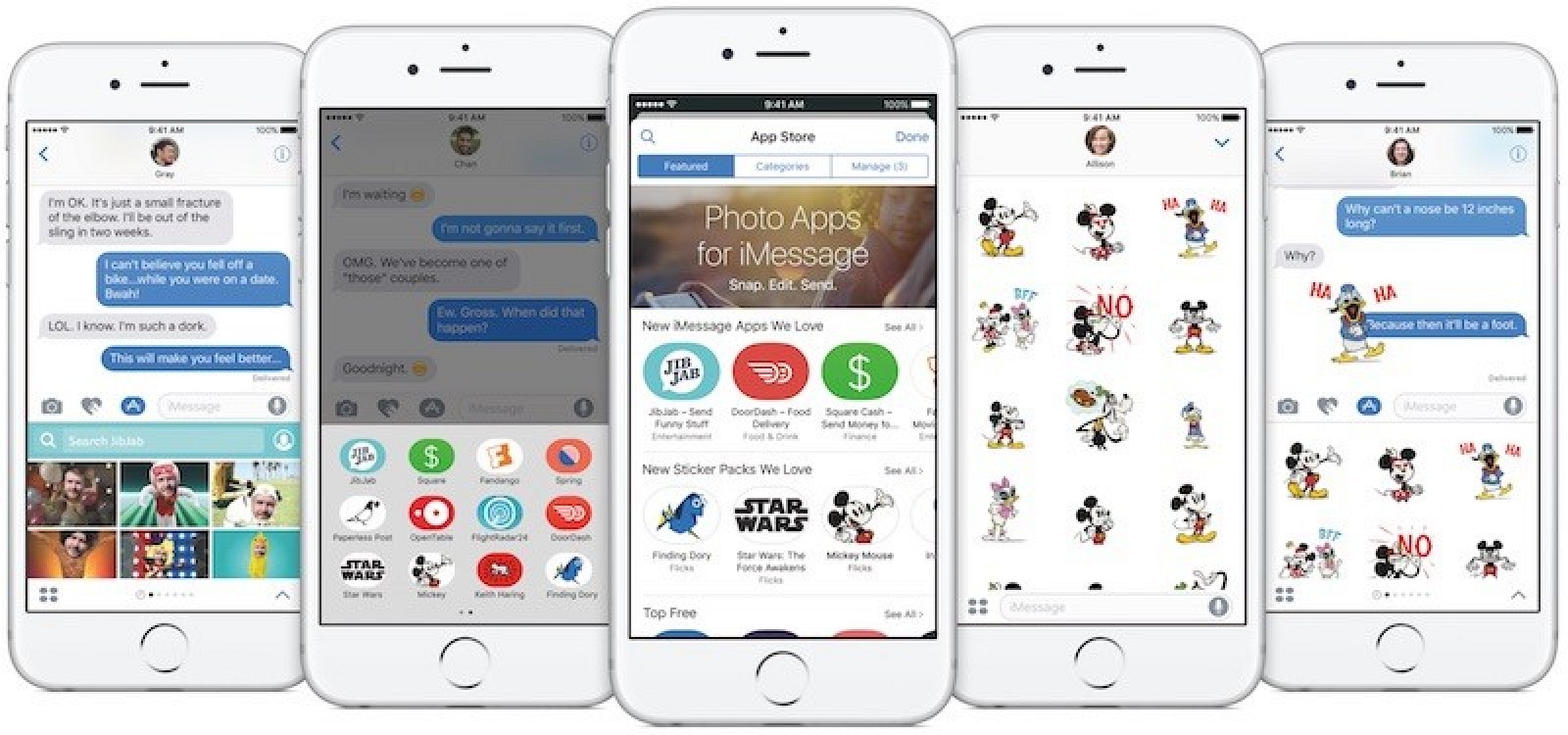 Photos
The Photos app in iOS 10 has been updated with what Apple calls "Siri intelligence," which equates to new deep learning algorithms and advanced facial and object recognition techniques, aka computer vision.
Like Messages and Mail, Photos now incorporates a "Markup" editing tool for adding text and sketches to photos for annotation purposes, and there's now support for "Live Filters," which can be applied to Live Photos, along with Live Photos editing capabilities. Live Photos are also being updated with improved stabilization. For standard photos, there's an improved auto enhance function and a new brilliance adjustment slider.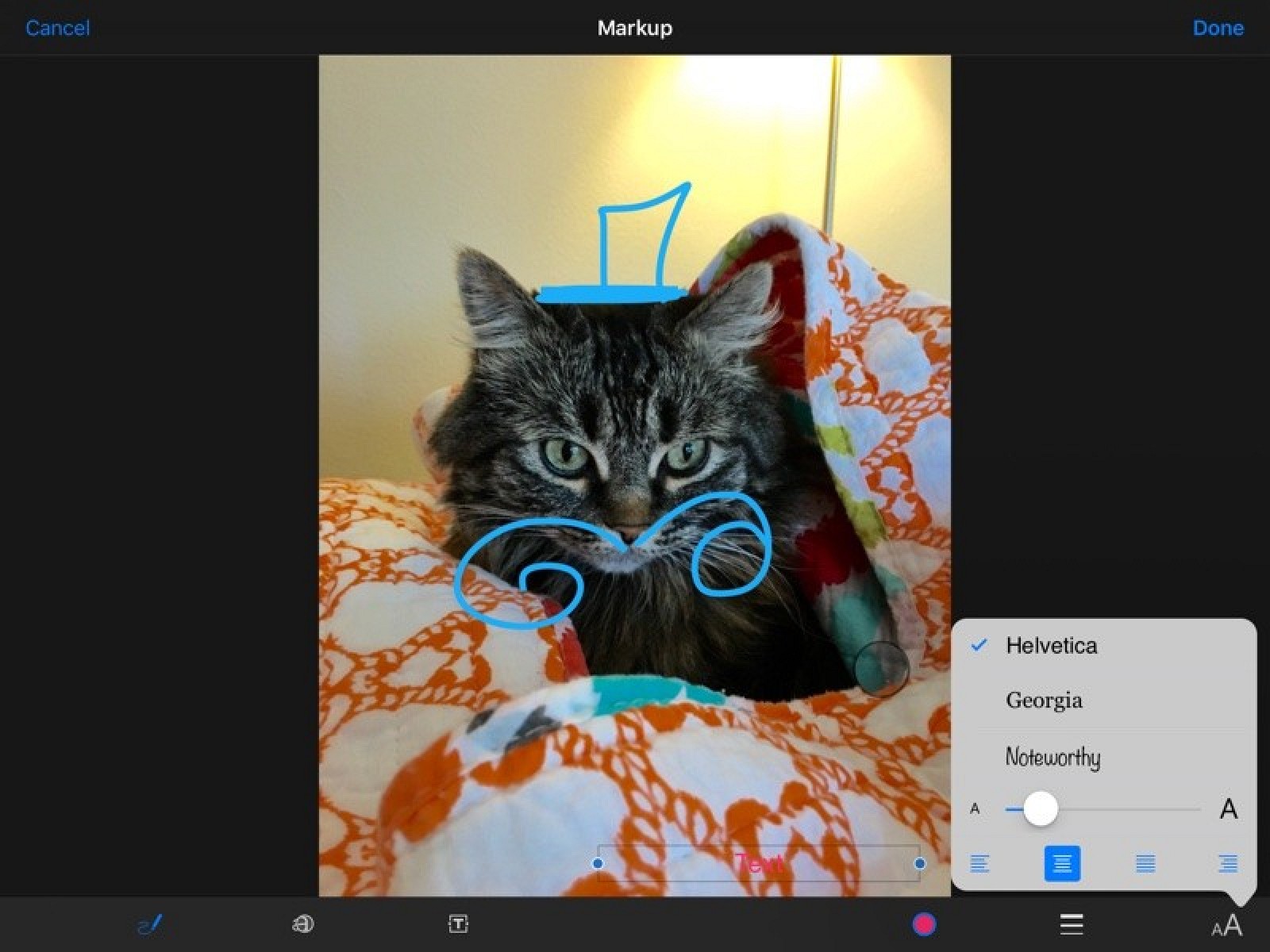 New Apps and App Updates
HOME
Apple added a standalone "Home" app in iOS 10, designed to control all of a user's HomeKit-connected products in one central spot. Home, available on the iPhone and iPad, offers quick access to favorite HomeKit scenes and accessories, plus a list of all rooms to make it simple to control several accessories at once.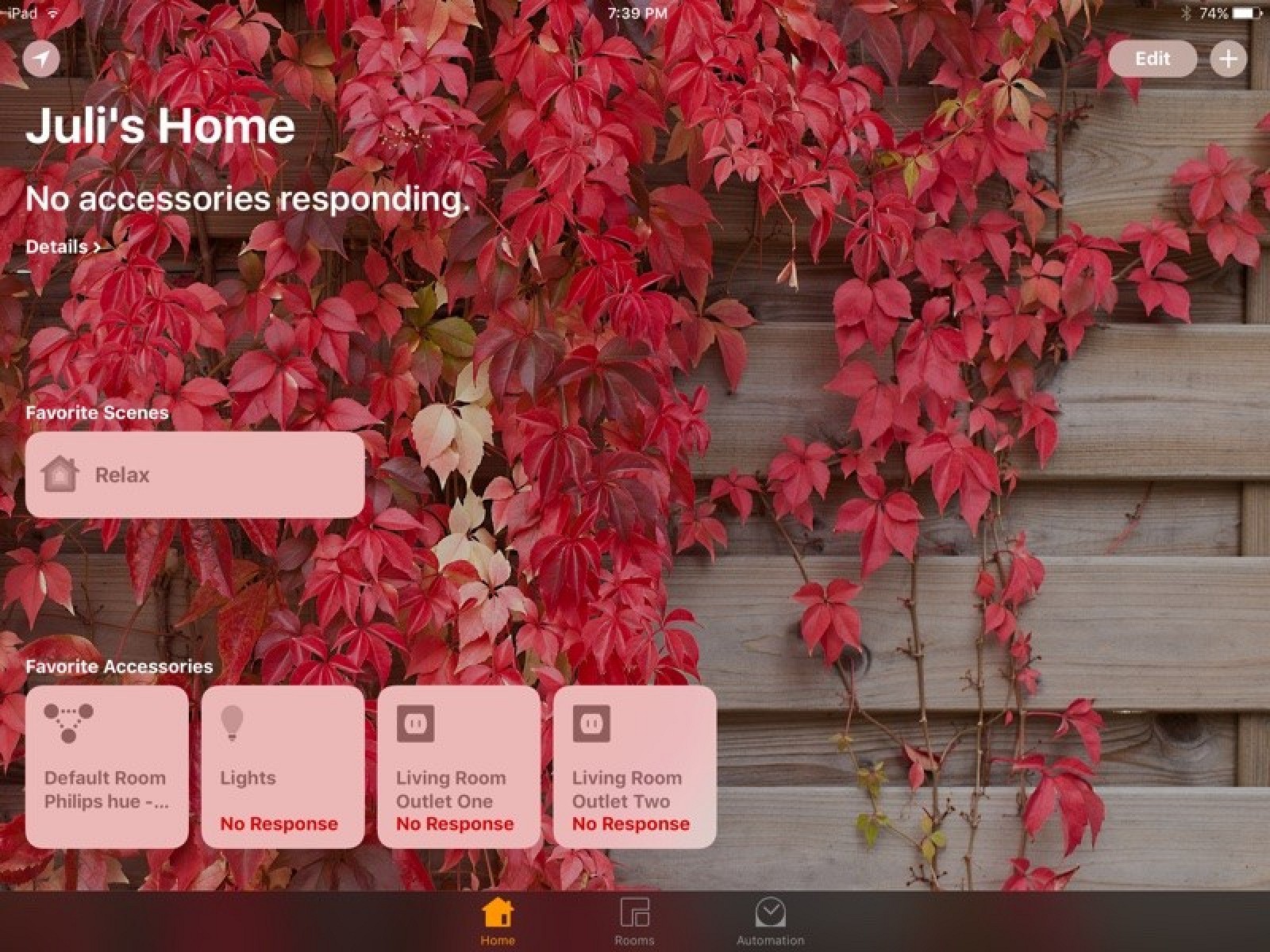 With the Home app, either an Apple TV or an iPad can be set as a Home Hub to allow HomeKit accessories to be used when away from home. There's also a section to create automated routines to do things like turn the lights on at specific times.
Home is also built into the iOS Control Center, allowing users to access their smart home devices without needing to open an app.
In other HomeKit news, iOS 10 brings support for new types of devices, including video cameras, air conditioning units, and doorbells, and HomeKit products can be controlled through iOS 10's new interactive notifications.
MAIL
Mail has a new look with threaded conversations, which link multiple messages together in a single page. On the 12.9-inch iPad Pro, which has more screen real estate than other devices, Mail uses the same three-column view that's available on desktop machines.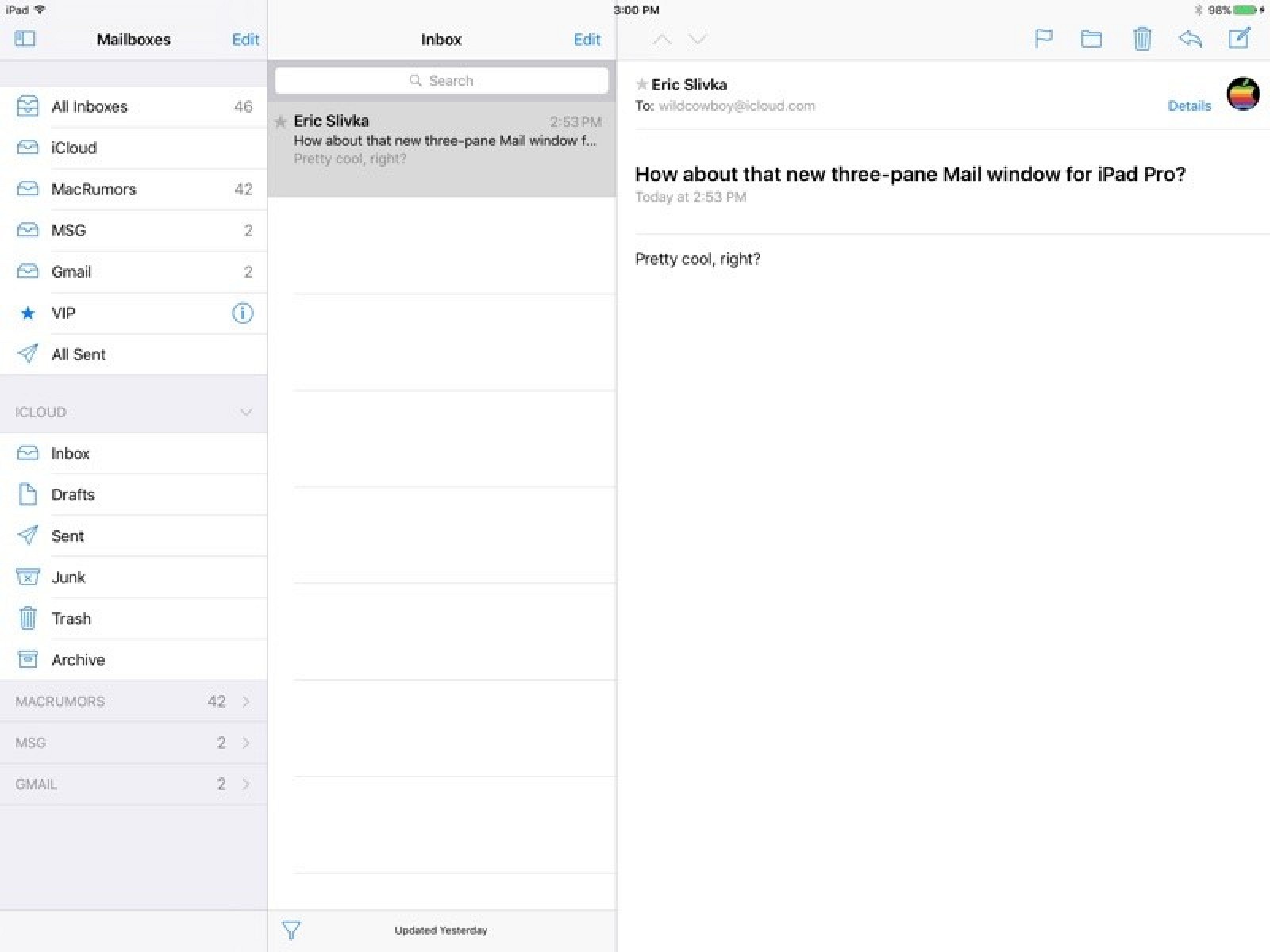 MAP
iOS 10 includes Maps extensions for developers, so apps can integrate directly with the Maps app, letting users do more without having to open multiple apps. For example, with OpenTable integration, Maps can be used to book a dinner reservation, and with Uber integration, a user can call an Uber without leaving the Maps app.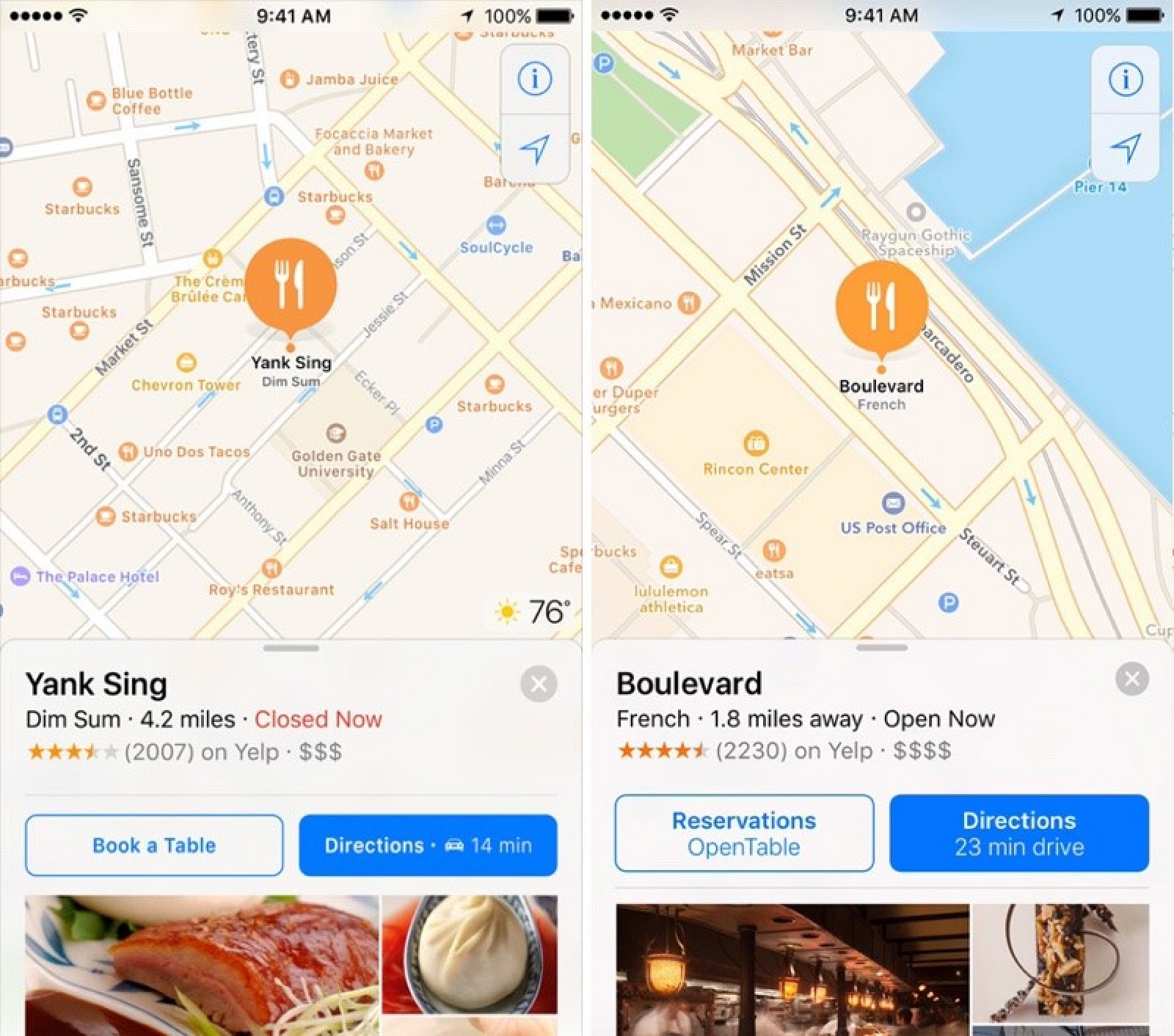 When you park, Apple Maps automatically remembers your car location so you'll never forget where your car is, and Maps also now offers optional routes that avoid toll roads.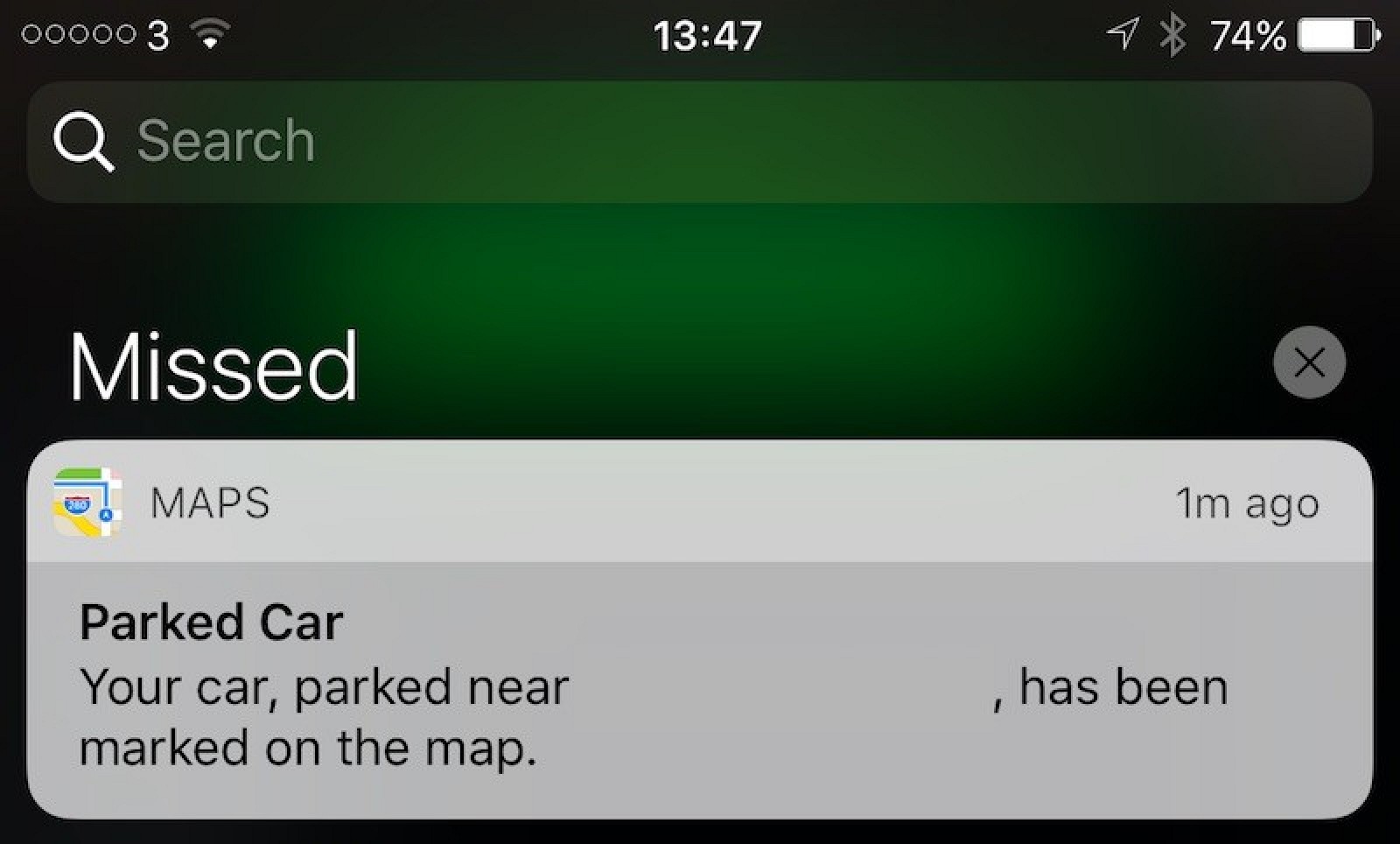 iOS 10 Tidbits and Extra Features
Copy and Paste
– There's a new Continuity feature that allows copied content to sync across Mac and iOS devices. You can copy a link on an iPhone, for example, and paste it on a Mac running macOS Sierra.

iCloud Drive
– When used in conjunction with macOS Sierra, the iCloud Drive app on iOS devices houses all Mac files located on either the desktop or the Documents folder for quick access anywhere.

Phone
– Apple has created a new "CallKit" API that allows third-party VoIP apps like Skype to behave much like a standard phone call. There's also a new caller ID extension that can be used to screen phone calls for spam.
Voicemail transcription
– In iOS 10, incoming voicemail messages are translated to text and can be read instead of listened to.

Bedtime Alarm
– With bedtime alarm, it's possible to set a regular sleep schedule to get reminders to let you know when it's time to go to bed.
Music Storage Optimization
– There are now options in the Settings app to optimize storage and remove songs that have not been listened to in a while. There are settings to limit music storage space to 8GB, 16GB, 32GB, and 64GB.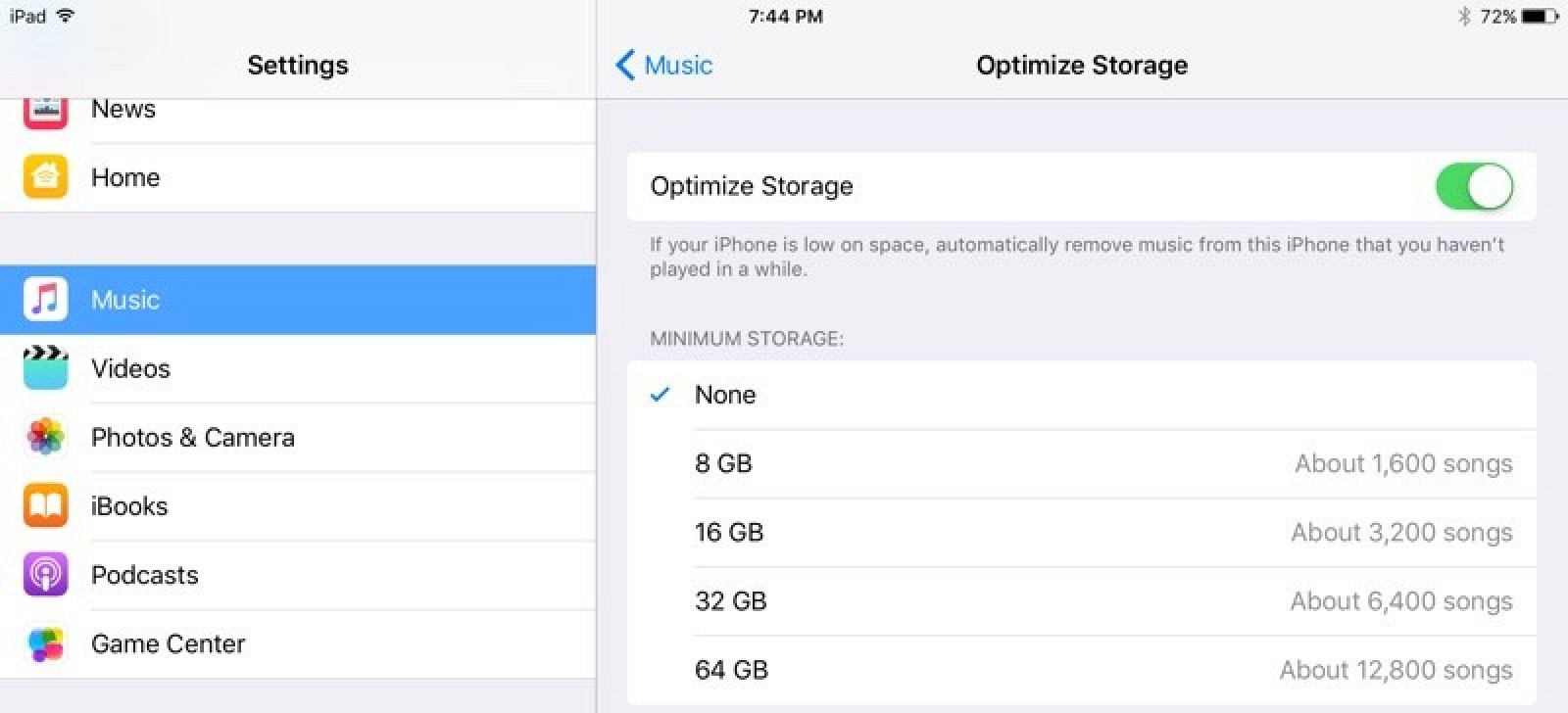 New Keyboard Sound
– Keyboard sounds have been slightly tweaked. Backspace now has a distinctive sounds unique from other key press sounds, and there's a new sound for space, return, shift, and number/emoji shift. There's also a new general sound for all other key presses that's more of a muted popping-style sound.

Game Center
– Apple has removed the Game Center app from iOS 10, but the Game Center service continues to be available.

TextEdit
– A TextEdit app was spotted during the keynote event of the Worldwide Developers Conference, suggesting Apple may be planning to introduce a TextEdit app in a future beta.
hopefully this will help you alot to understand iOS 10