What is Gmail Smart Reply?
Gmail Smart Reply is a feature exclusive to the Inbox by Gmail mobile app, which uses machine learning (deep learning to be specific) to generate applicable (and common) response options for the emails that its user receives.
To put it another way, this feature is an autocorrect tool not for words but for ENTIRE email responses.
Save time with Smart Reply in Gmail
It's pretty easy to read your emails while you're on the go, but responding to those emails takes effort. Smart Reply, available in Inbox by Gmail and Allo, saves you time by suggesting quick responses to your messages. The feature already drives 12 percent of replies in Inbox on mobile. And starting today, Smart Reply is coming to Gmail for Android and iOS too.
How does Gmail Smart Reply Work?
The concept is simple.
Smart Reply suggests three responses based on the email you received: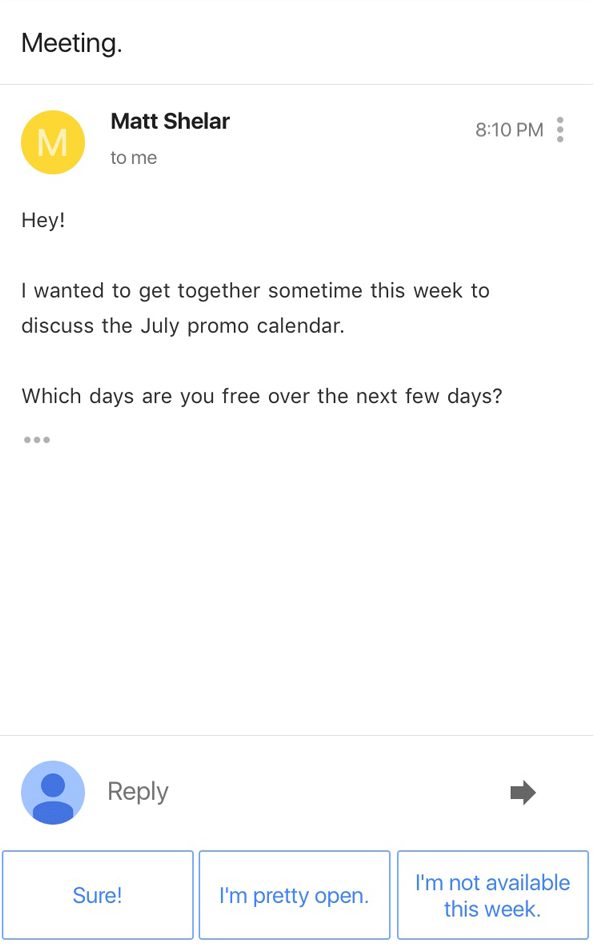 Once you've selected one, you can send it immediately or edit your response starting with the Smart Reply text. Either way, you're saving time.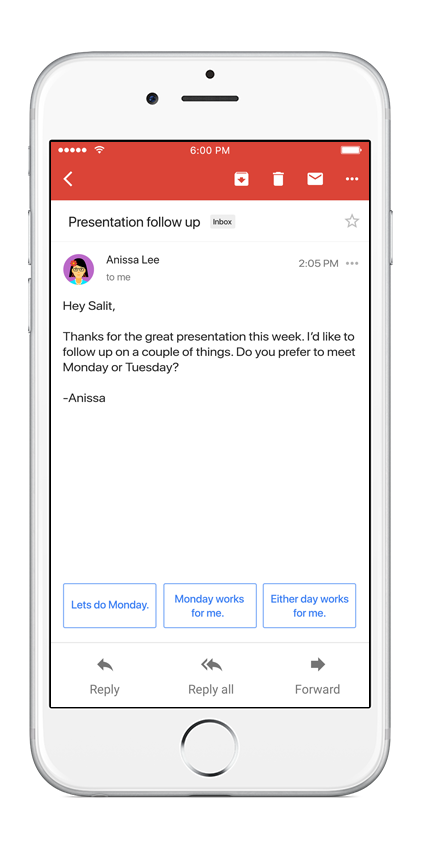 Smart Reply utilizes machine learning to give you better responses the more you use it. So if you're more of a "thanks!" than a "thanks." person, we'll suggest the response that's, well, more you! If you want to learn about the smarts behind Smart Reply, check out the Google Research Blog.
Smart Reply will roll out globally on Android and iOS in English first, and Spanish will follow in the coming weeks. Stay tuned for more languages coming soon!
Why is Gmail Smart Reply Important to You?
In a world where the average adult receives 121 emails a day (over half of which are statistically checked on a mobile device), it's no secret that there's a lot of crap to sort through in your inbox.
But what about the emails you want to respond to? Better yet, what about the emails you want to respond to, but don't have the time or headspace to respond to?
No matter how diligent you are with checking your inbox, there's always AT LEAST one that falls through the cracks. But with Gmail Smart Reply, you read that email without having to formulate a new thought (which often is more work than we care to admit).
Instead, there are three options available to choose from, and tweak if necessary.
And the more you use it, the better it becomes at suggesting answers for you AND the more those answers reflect your emailing style.
For example, if you're more of a "Thank you!" person than a "thanks" person, Gmail Smart Reply will eventually recognize this behavior and reflect it in your answer bank. It's small, but it's personalized.
How To Turn Off Gmail's New 'Smart Reply' Feature
Google this week introduced a Gmail feature called Smart Reply, which scans your emails and suggests a handful of pre-populated responses. For instance, if someone emails you asking "would you like to go to dinner at 7 tonight?," Gmail might suggest "sounds great!" as a one-tap reply.
Smart Reply is rolling out to English-language iPhone and Android users immediately, with Spanish on deck "in the coming weeks," Google says. The feature was also already present on Google's alternative email app, Inbox, as well as one of its messaging apps, Allo.
I've used the feature since it rolled out for Inbox and I find it helpful. However, some users may decide it's creepy that Google is scanning the content of your messages. If that's the case, here's how to turn it off:
Open your Gmail app
Tap the triple-line "hamburger" icon in the top-left corner
Tap "Settings"
Tap your email address
Find the option for "Smart Reply" and switch the slider to the "Off" position.
Still, it's worth remembering that Google is scanning your emails anyway to do things like filter out spam, alert you to potential viruses and phishing attempts, and so forth. Of course, on the flip side, it's also showing you ads based on what's in your emails. But that's the trade-off we make for free services like Gmail, Facebook and the rest: We get something useful, they get data to fuel their massive advertising businesses. If you want truly private emailing, you'll probably wind up paying for something built with security in mind, like ProtonMail.